Black Friday shopping. Holiday shopping. Saving money.
There's an app for that, right?
Of course there is! Many of these apps will allow you to save money all year 'round and are completely free!
Mall Maps
The Mall Maps Apps will help you navigate your way around your favorite mall. Over 1,000 malls are supported by this app. Price: FREE
Checkout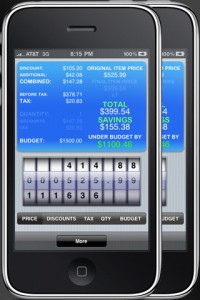 The Checkout App will help you calculate the discount and include tax so you will know exactly what you will be paying for a discounted item. Price: FREE
TGI Black Friday App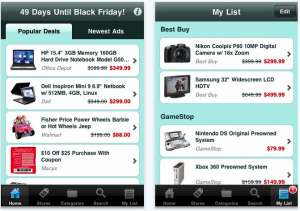 Get information on the latest Black Friday Deals with this app. It is available for iPhone or Android Market. Price: FREE
Groupon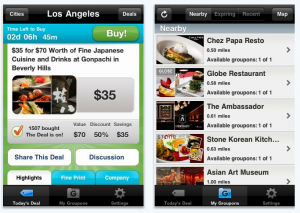 Groupon is going to be having some pretty fabulous holiday offers. At least that is what they are telling me! Download the iPhone or Android Market app to have these deals at your fingertips. Price: FREE
Facebook
Simply check in with Facebook places for discounts. This is a new feature that American Eagle, Gap, JCPenney, Macy's, Starbucks, and others will be using! As long as you have a data package, you should be able to use this feature. You can also use the Facebook app for iPhone or other smart phones.  Price: FREE
Shop Savvy Bar Code Scanner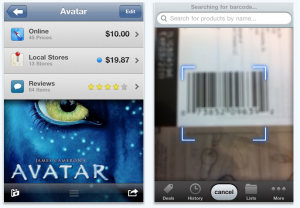 With the Shop Savvy Bar Code Scanner app you can compare prices by simply scanning the bar code of the item. This is available for iPhone or Android phones. Price: FREE
Simon Malls App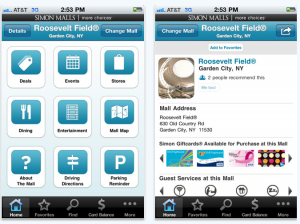 The Simon Malls App will allow you to check out the latest deals at your Simon-Owned mall, check gift card balances, remember where you parked, and interactive mall maps (where available). Price: FREE
shopkick
The shopkick app will reward you for simply walking into more than 1,000 partner stores nationwide. This includes Best Buy, Target, Macy's, American Eagle, Wet Seal, and more! Available on the iPhone or Android Market. Price: FREE
What are your favorite apps for shopping?
Be sure to enter my Thank You Readers iPad giveaway!
For More Holiday Bargains: