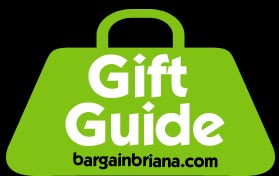 These are some of my favorite products and gift recommendation ideas. This list will be updated throughout the Holiday Season. In most cases, the link will take you to a full review of the product/service or it will take you directly to the shopping site.
Click on the Picture to be taken to a detailed review of the product.
Stocking Stuffers
For a perfect gift filler, stocking stuffer, or just a little something for your child, you can choose from Pook-a-Looz Wobblers, Yip Yappers, Spinners, and Walkers.  All the favorite Disney characters from Mickey & Minnie to Buzz Lightyear!

Pook-a-Looz are available at Walmart, Toys "R" Us, and Target. Prices start at $4.99 and are geared towards children 5 years and older.
Gifts for Infants/Expecting Mothers
The Clic-It Diaper Bag, the smart way to carry a diaper bag, includes the deluxe changing kit is $49.99. Each additional accessory is additional starting at $4.99. You can purchase at Clicitbag.com and will be able to purchase from additional retailers in the near future.
Pop on Pals are designed for kids ages 2 and older. However, kids older will enjoy these fun mix and match character playsets too!

Pop on Pals are available at Toys "R" Us, Target, Kmart, Sears, and online atAmazon.com. Retails for $34.99
Gifts for Children
Skechers Twinkle Toes are the MUST have for the Preschool – Elementary age child. Sparkly, shiny, and just plain adorable!
The Littlest Pet Shop games never fail to disappoint including the newest Littlest Pet Shop 3 Biggest Stars. Compete with you and your pet for the gold.

Retails for $29.99 and sold at major retailers at online like Amazon.com .

The Olivia 2-in-1 Transforming Playset allows your child to go on adventure with 6.75 year old Olivia. You can transform Olivia's house magically into a pirate ship.

Retails for $29.99 and sold online at major retailers like Amazon.com.

Road Rippers R/C Mobile Command or Motor Muscle are sold online at Amazon.com or in stores like Walmart, Target, Kmart, and more! Retail price is $35.00.
These fun interactive Moon Dough sets start at just $9.99 (Pizza Shop, Doghouse, Burger Shop) and moon dough refill packs start at $2.99 retail price and come in blue, green, white, orange, purple, red, pink, and yellow.

The Moon Dough Barnyard shown  retails for $19.99 and can be found in major retailers in-stores and online at Amazon.com.

Have you seen these little robotic creatures called Hexbug Nano yet?  If you haven't, you are missing out on some serious fun! These creepy crawlers are so much fun for kids and adults alike!

Hexbug Nano Habitats retail for $29.99 at major retailers and online at Amazon.com.

Backyard Safari Outfitters encourage children to get active, play outside, and explore nature.

Retail prices are Cargo Vest ($19.99), Periscope ($24.99), and Bug Vacuum ($19.99).

They are available at Toys R Us, Walmart, Barnes & Noble, Amazon.com, and Target.

Washington Shoe Company and Warner Brothers have teamed up to bring this Batman-themed collection, which is sold at Nordstrom and specialty shops nationwide.

Retail prices are $36.95 boots, $16 umbrella, and $50 for the raincoat.
Gifts for Pre-Teens & Teens
The Hunger Games is set in a future or parallel universe where every year there is a Survivor type event where children will fight to the death. The citizens of Panem are required to watch while their young children try to maintain their survival. It is the ultimate sacrifice to remember the citizens that the Capital is who is in control.
The Shred Sled combines the movements of snowboarding, surfing, and skateboarding all in one!

Retails for $59.99 at retailers like Target, Walmart, and Amazon.com.
Gifts for Him
Gifts for Her
| | |
| --- | --- |
| | CaliBowls are the these cool new bowls for every occasion! Not only is this no spill lip great for prep. They are perfect for entertaining. I don't know anyone who likes to be the one who spills the dip all over the table at a social gathering. |
| | |
| | |
| | |
| | |
Gifts for Everyone