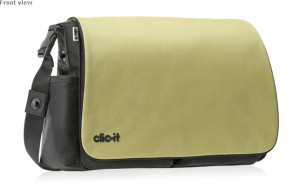 Clic-It is the smart way to carry a diaper bag. As a mom of four, I'm wishing this system was around when I needed it! It is a unique system that combines convenience and accessibility to help keep parents organized. Plus, it is a stylish bag for either parent to carry.
So why is it cool?
It allows you to customize your bag based on your child's age or activities. You can easily remove, add, or rearrange travel accessories with the patented-pending quick release clip system.  Plus, everything you need is at your fingertips, which eliminates the need to dig in the diaper bag for what you are looking for.
Accessories include:
Bottle Holder
Insulated Tote
Pacifier Case
Diapers and Wipes Case
Organizer Pouch
Key Ring
Gadget Case
The Gadget Case is a really cool accessory especially if you use your diaper bag as a purse but want something to detach when you are leaving your child in other hands or just making a quick trip to the grocery store. This bag holds what you want WHEN you want it! I love it!
The Clic-It Diaper bag, which includes the deluxe changing kit is $49.99. Each additional accessory is additional starting at $4.99. You can purchase at Clicitbag.com and will be able to purchase from additional retailers in the near future.
Cli-It is kicking off the "Gearing Up for Baby" Contest from November 15 – December 24. You can log on to Clicitbag.com for details on how to enter for a prize pack including a new Clic-It diaper bag and accessory assortment (value $117).
Read more reviews from Bargain Briana or at the Buzz by Bargain Briana.
This post is sponsored by Clic-It through Team Mom. Post was written 100% by me and was not edited by the sponsor. Read more on my Disclosure Policy.