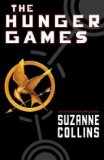 The Hunger Games by Suzanne Collins was recommended to me by a friend. I'm so glad I took her suggestion as I voraciously read the entire Hunger Games Trilogy in a weekend.
The Hunger Games is set in a future or parallel universe where every year there is a Survivor type event where children will fight to the death. The citizens of Panem are required to watch while their young children try to maintain their survival. It is the ultimate sacrifice to remember the citizens that the Capital is who is in control.
The heroine in this story, Katniss, bravely takes her younger sister's place in the The Hunger Games. Once she made her choice, she is determined to win. Readers will be gripped and on pins and needles throughout the book to reveal the dramatic ending.
I don't want to give too much away but once you start reading you will be hooked. This book is not only entertaining but brings up all sorts of questions about today's society. Are we mindless robots like the people in the Capitol? Have we lost our humanity?
This series is geared for young adults but this old adult was held captive by the trilogy and yearns for more. You can purchase the paper back version of The Hunger Games for just $4.98 from Amazon.