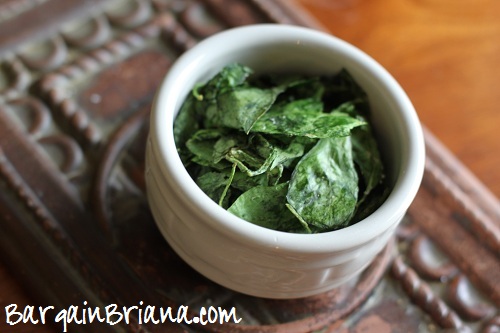 These baked spinach chips are a nice tasty, healthy crunch that are easy to customize to your preference. To keep it simple, my first batch was just seasoned with salt and pepper. If you have leftover spinach from a recipe, this is a great idea.  I used my Misto Olive Oil sprayer to easily coat my spinach. This really helps me control my oil usage.
Baked Spinach Chips
Ingredients
Spinach
Oil (I used olive oil)
sea salt
pepper
other seasonings to taste
Instructions
Wash and dry spinach.
Toss spinach in oil. A little goes a long ways with the oil.
Add a few pinches of sea salt and a little pepper.
Toss again to mix thoroughly.
Layer individually on pan. Line with parchment paper for easy removal.
Bake at 275 degrees for 15-20 minutes.
View the Recipe Index for a complete list of recipes. For the most recent vegetarian recipes posted on the blog, go here. To view all the recipes post on the blog, go here.