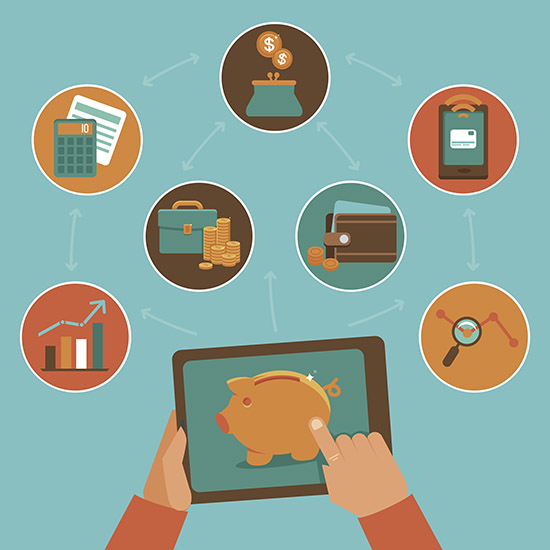 It's hard to keep track of where your money goes, especially on a day-to-day basis. Thank goodness you have technology and your iPhone to help you do it. Here, then, are our picks for the top six finance apps for the iPhone:
Cashish (99 Cents)
Cashish is a simple and intuitive app. Open it and enter an expense; Cashish responds automatically with what you have left. The app provides a pie chart that breaks down your expenses for a certain period of time (i.e., 30 days), in addition to where it went. You can even export it as a .csv file so you can view or change it in Excel.
Bottom line: Cashish is for the person who simply wants to track spending.
Mint.com (Free)
You can track your spending, keep an eye on your credit card balances and save for a future purchase with Mint.com. Setup is easy; enter your banking information, and you'll get an instant dashboard view of your financial data. Mint provides you with your budget and balances anytime you wish, and it will alert you if you are about to go over your budget, an account balance is running low or your electric bill is due. You will also be alerted automatically about large purchases and anything suspicious on any of your accounts. Because you are using your iPhone to help manage your money, consider purchasing a protection plan for added peace of mind; Mint can notify you when this bill is due, as well.
Bottom line: Mint is for the person who wants to know what their financial picture is at all times and in detail.
BUDGT ($1.99)
If you want an app that draws a simple budget up for you and tracks your spending but doesn't need your accounts linked to it to do it, then this is the finance app for you. You begin by entering your monthly income and expenses. BUDGT takes what's left over after your recurring bills and creates a daily budget for you for the rest of the month. You can find out if you've gone over budget or if you have some money left anytime you wish.
Bottom line: BUDGT is for those who don't want their accounts linked to their iPhone.
Goodbudget (Two Price Plans)
Remember the paper envelope way of budgeting and paying your bills? Well instead of paper envelopes, with Goodbudget (formerly EEBA, the Easy Envelope Budget Aid) you create digital envelopes for the money in your bank account. During the month, you remove what money you need from the correct envelope (and only that envelope). Goodbudget will create detailed financial reports in the form of pie charts, and it all syncs to the cloud. With the right credentials, any person on the account can see how much is left in each envelope at any time.
Bottom line: Goodbudget is a no-frills app that enables users to replace their paper envelope system with a much safer digital one. It runs $14.99 for three months, or you can sign up for the six-month plan for $23.99.
BillGuard (Free)
Tracking your cash is one thing, but tracking your credit and debit cards takes a bit more effort, especially with the threat of identity theft looming. BillGuard makes this easy by monitoring your accounts to protect you from fraudulent activity and errors on your cards. The app flags suspicious transactions, eliminating the time it takes to do this manually. It will help you build a budget and see your balances and charges. One handy feature: If you need to resolve issues on your statement, you can go straight to the merchant from the app.
Bottom line: BillGuard tracks credit and debit card spending with an added layer of security.
Money Wiz ($4.99)
If you want a no-nonsense app that helps you keep a keen eye on your finances, look no further than MoneyWiz. You can add as many accounts as you wish, enable a check register for each one and sort, filter, duplicate or find any transaction in any account. Other features include a built-in keyboard calculator, a photo library that stores images of receipts and a calendar where you can view any bill payments and their due dates. Reports are available on everything, including total net worth.
Bottom line: Money Wiz is for the person who wants to spend, pay bills, be alerted when payments are due, budget their money and track spending in detail.
Did you enjoy this post? Find more money saving tips here.