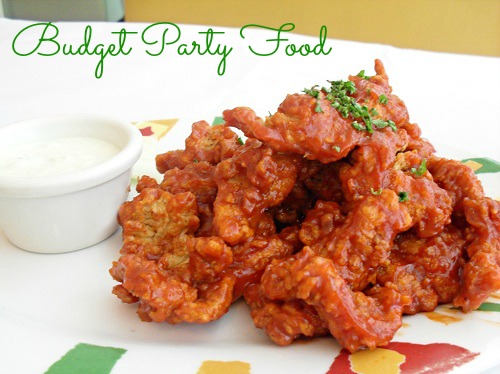 You don't have to spend a lot of money to throw a great party when you use a few creative budget party food ideas. With some preparation, you can throw a fete that is worthy of a Pinterest pin with a small budget. Use these ideas for your next gathering for a fun and tasty event.
Budget Party Food
Frozen Appetizers
Frozen foods have come a long way in recent years. There are many different brands of frozen finger foods that taste just as good as homemade. The difference is that you won't have to spend a fortune on all the separate ingredients needed to make these foods. Choose from gourmet options like tandoori chicken samosas, lobster and cheese bites, and shrimp spring rolls. Trader Joe's and Target's Archer Farms offer a large selection of delicious and affordable frozen appetizers that your guests will never suspect came from the freezer. Serve these finger foods on elegant trays for an impressive look.
Pasta Dishes
For large gatherings, you will need to make large batches of food to feed the hungry masses. Choosing menu options that are affordable to make in large quantities is essential to keeping within your party budget. Pasta dishes, such as mostaccioli and ziti are cheap and easy to make in bulk. You can save even more money buy purchasing large jars of plain spaghetti sauce and adding your own seasoning. With a few pounds of ground beef and two or three boxes of pasta, you can easily make enough pasta to feed a large crowd, all for around $30.
Salads
Salad is always a hit at parties, and it is incredibly cheap to make a good salad. Lettuce, carrots, and red cabbage can be bought in bulk for just a few dollars. Splurge on some of the more expensive items, like red and yellow bell peppers or mushrooms to create a delicious salad. Make your own salad dressing to impress your guests, or buy bottled dressing and serve it in a handsome bottle for a unique look.
Chicken Wings
Chicken wings are always a crowd pleaser. They are also cheap compared to other meats you can buy for a party. Making a large batch of buffalo or BBQ chicken wings is quick and easy, so you won't have to spend hours prepping for your party. Add some celery sticks to your platter for garnish for the perfect finishing touch to this party staple.
Cupcakes
It is tempting to buy a cake from a bakery to serve a large crowd, but this can be very expensive. Baking cupcakes is an easy alternative to trying to create a perfect cake at home. You won't have to invest in a large sheet cake pan for this option. You can buy store-bought cake mixes for around $2 each. Decorate the cupcakes to give them a fun look that won't break your party budget. This option is also a great way to make exactly enough dessert to serve all your party guests without having leftovers the next day.
Budget party foods can be delicious. Plan out your menu ahead of time. Decide which items are cheaper to make on your own and which are more affordable to buy directly from a store. The result will be a fun-filled, delicious menu that your partygoers will love.
Related Stories: 
Did you enjoy this post? Find more money saving tips here.