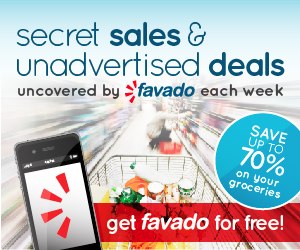 There is a new grocery app to help you save even more! I've been working with Savings.com to help make this the BEST grocery savings tool out there! All the great deals you can find here are now on the app – yippppppeeeeee!!!!
So many reasons to be excited! Working on a game changer in the grocery space makes me happy and excited to help YOU save even more!
I'm proud to introduce, Favado! A mobile savings app to help you from overspending by allowing you to compare sales across many stores! With double coupons being eliminated in my area, I've more than lost my couponing motivation. Coupon doubles really did increase my total savings. However, Favado will now help me to achieve similar savings again since I'm able to do price comparison in the app to ensure I'm getting the best deal possible.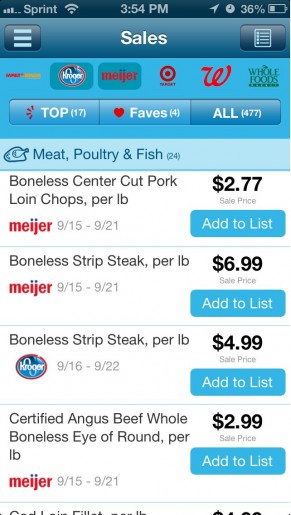 The above screen shot is a price comparison view on meats directly from Favado. This information showed me that I could save $2 by shopping at Kroger over Meijer for Boneless Strip Steak. Even if you aren't a couponer, Favado will help you find the very best sales on the items you need – you can save approximately 30% without using coupons!

You can also set your favorites for brands or products that you shop for frequently. For example, our family is brand loyal to a few products so those are set to alert me whenever they are included in the sales that week. While I will still search the sales for other items, getting a reminder for something that I am going to buy is one less thing I have to remember!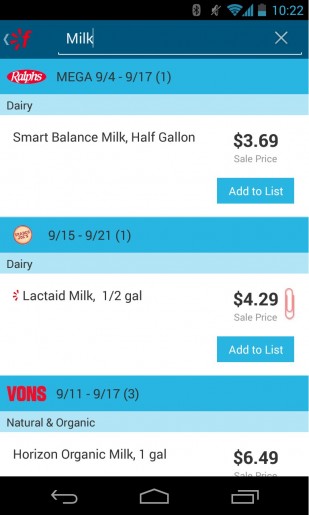 Another useful feature is the search function. Say you just need a few ingredients to fill out your meal plan for the week. Search Favado to find just those items and don't waste your time looking at several grocery ads. Hey, you may even find that a drugstore has a reward deal going on that's worth making a trip for too!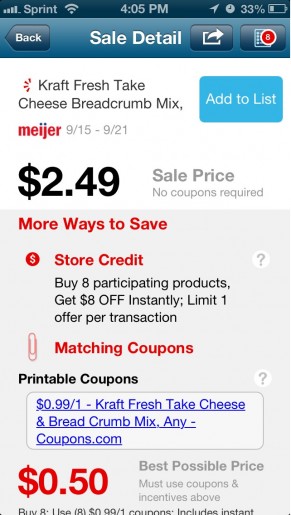 That's the other cool thing about Favado – it tells you every possible way to save. If you want to use coupons (and I know lots of you do), once you open the sale detail, you can see all available coupons for that item. You will also see any types of rewards or cash back incentives the item is offering.
Once you add various items to your list, you can then email to yourself or your spouse, friend, neighbor, teacher, etc to get your coupons printed. I love that you can shop with the list you created within the app and mark items off as you go!
(Note: You cannot print coupons from the app or your phone because coupon technology hasn't come along that well yet. It will happen eventually :)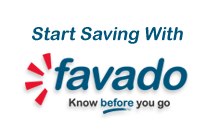 So, have I convinced you yet that Favado is completely awesome! Seriously, this is an app that I envision using every single week as I plan my grocery list. I know you will love it as much as I've loved helping to create it, and even moreso because I love using it! I would love it if you register for your Favado account using my unique link. Share with your friends and let the saving on your phone officially begin!
Here's How to Get Started: 
Wait for confirmation link in your email. (should be about 1-2 minutes. check spam if you don't see it by then.)
Then you can download the app from the Play Store or the Apple Store
Also, if you don't have a mobile phone and want to see the ads online, we still do all the weekly store sales like we always have done. We are adding new stores this week too so you have an even more comprehensive list to save and compare sales! View the Store Sales page to find them all – they are updated regularly.