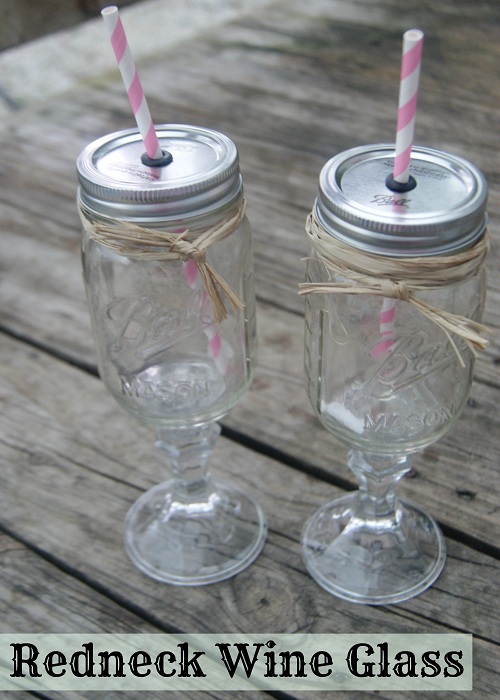 If you haven't gotten around to making a set of these this is the perfect opportunity. Simple, and inexpensive to make these Redneck Wineglasses made from mason jars are a fun way to drink your favorite beverage.  They are very popular for weddings, bridal and baby showers, or just to give as a gift for birthdays and Christmas.  They only come to about $3.00 a piece to make, plus the cost of glue- a small tube will do a case of mason jars.  I have seen these sell online or in stores for as much as $16.00 a piece!
Materials Needed:
2 pint mason jars with lids and rings
2 glass tapered candle holders-Dollar Tree
2 – 5/16 rubber grommets- Home Depot
Small piece of medium grit sandpaper
Use sandpaper and scratch up the top rim of the glass candlesticks, this will help the glue stick better.
Wash mason jars and candlesticks with soap and water, allow to dry completely.  Turn your mason jar over and wipe the bottom well with vinegar to remove fingerprints and oils- dry with a paper towel.  Do the same for the top rim of candlesticks.
Apply a 3/4 " thick layer of Liquid Nails completely around the lip of the top of the candlestick.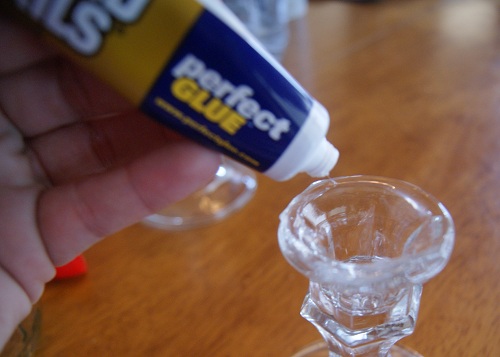 Turn your mason jar upside down, place your candlestick glue side down on the bottom of the mason jar, try to place as close to center as you can. Press firmly.   Allow your mason jar to try upside down for  24 hours.
To make the finished straw opening, have your hubby drill a hole in the lids with a 1/8" drill bit. Trim away excessive metal shavings with snips. Place rubber grummets into holes. Or you know, if you are pretty handy with the power tools yourself you can totally DIY it! (I cheat a little, because I am far to clumsy to operate power tools)
Decorate by tying rafia or ribbon around rim.
These hold up well, I have had my original set I made for 2 years and they have not come apart. I do recommend hand washing. Repeated exposure to heat from the dishwasher may weaken glue.
Find more holiday gifts in a jar ideas!

Did you enjoy this post? Find more money saving tips here.