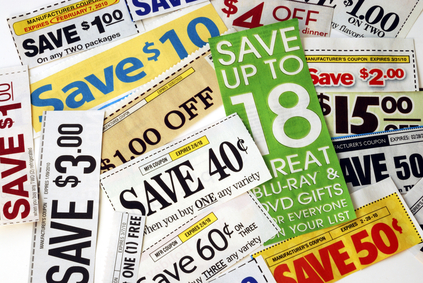 This post was written by Tara Gold
Tara homeschools her three children from their home in the country. She loves to garden and blog in her free time.
So, maybe you feel uncomfortable dragging nine loaded shopping carts through the check-out and surprising your cashier with seven pounds of clipped coupons at the end. Extreme couponing saves money, but some frugal shoppers are, quite simply, not insane.
As a penny-wise single mom, save bank on the products and services you use every day by employing these subtle tactics.
Take Advantage of Free Money-Saving Apps
Shop Savvy: Offered free on the iPhone and iPad, Shop Savvy lets you the scan the bar code of an item and compare its price at local retailers. Whether you're scoping out the cheapest place to buy pinata filler or hoping to score the best deal on hamburger, Shop Savvy has you covered.
Coupon Sherpa: Also a free application for users of iPhone and iPad, Coupon Sherpa does away with all the time and money it takes to print and clip traditional coupons. This app delivers them right to your phone, where the cashier can scan them into her register and save you money on the spot.
Free Fridays: If you don't have the latest iPad, you can still take advantage of terrific free apps. Barnes and Noble offers Nook users access to a free app every Friday. Past offerings included OfficeSuite Professional and the Puffin Web Browser. You won't know what the next free app is until you visit the Nook marketplace each week.
Streamline Your Subscriptions
Lose the landline: Your smartphone actually works to save you money. There's really no need to hang onto the old landline, and you can save between $20 and $40 by cancelling. Make sure the school has your cell number, then drop the dead weight.
Make a choice: Either keep the expensive cable with all the add-on channels or maintain your frequent flyer status with Netflix and Hulu Plus. Unless you can't live without those old reruns of "Pink Panther," all three probably aren't necessary.
Stop using stamps: Most services offer an online payment option. Some banks with eliminate checking account fees when you pay bills online. It's a small savings, but again, it adds up to extra pennies in the college funds over time.
Keep Your Credit Report Close
Subscribe to an identity theft protection service such as Lifelock to make sure your credit is in good standing: These services monitor changes to your credit reports, keep tabs on public records, and flag new accounts opening up in your name. If something looks fishy, they'll alert you and help guide you through the process of righting the wrong.
Order your free credit report annually: Visit annualcreditreport.com to request your free copies from each of the three reporting agencies. Typically, it's accessible immediately online and you can print it for later use.
Take immediate steps to rectify any unauthorized entries on your reports: Chase these down yourself by following the trail of addresses or phone numbers on your reports, or let your monitoring service do it for you. According to Lifelock, more than 11 million Americans became victims of identity theft last year. Take steps to keep yourself off the statistics list.
Did you enjoy this post? Find more money saving tips here.