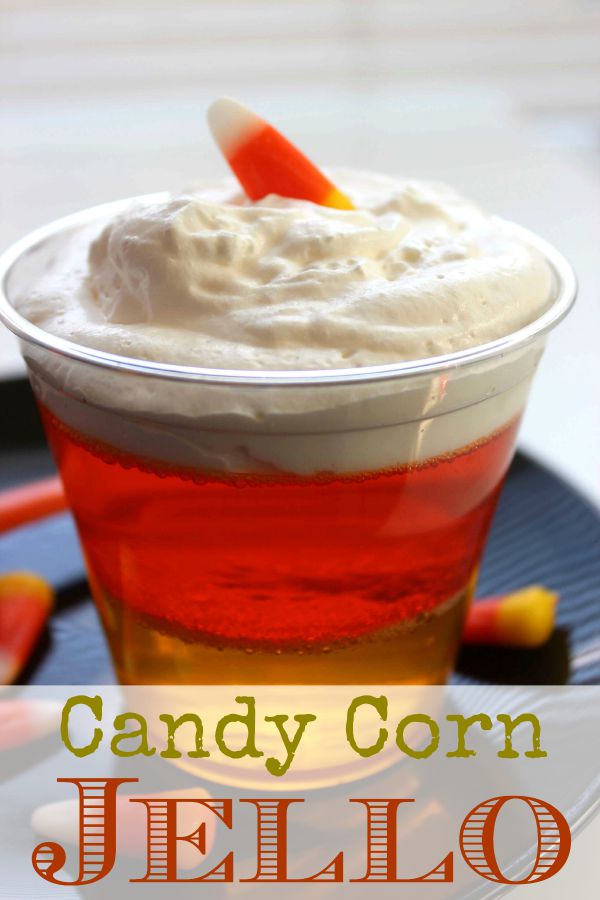 Halloween is almost here! Do you know what your family will be doing yet? Whether you are throwing a Halloween party for friends and family, bringing a treat in for your child's class party or simply hanging out at home before heading out trick or treating–one thing is for sure: you need a great dessert to celebrate with!
This Halloween, why not try some fun candy corn inspired desserts, like this yummy Candy Corn Jello? Made with lemon jello and orange jello and garnished with a candy corn, this Halloween jello is as fun and festive as it is delicious. It doesn't taste like candy corn, but one taste of the fresh and fruity flavor and you won't be disappointed.
If you've never tried making layered desserts before, the good news is that they really aren't very difficult to make at all. They do take some time, however, so you will want to plan ahead. For this Candy Corn Jello, you'll need to allow time for both layers to cool and harden independently so the layers don't mix. (If they do mix, it will still be delicious, but it won't be as pretty.) You'll want to start a few hours in advance.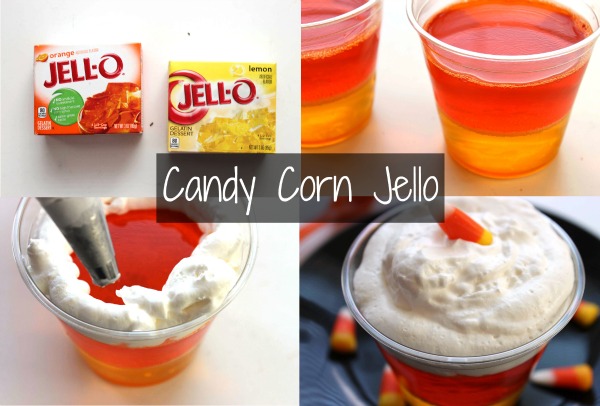 Alternately, you can always make these yummy layered desserts the night before. This way you aren't rushing around at the last minute or worrying if they will be done in time. I don't know about you, but I always appreciation Halloween desserts I can make ahead of time so I have one less thing on my to-do list on the big night!
If you love the idea of candy corn but you aren't a fan of the taste (or if you simply want something different and festive), these candy corn inspired desserts are absolutely perfect.
Tip: If you want to make an adult version, reduce the amount of boiling water and add in desired amount of liquor like vodka. It makes for a delicious Candy Corn inspired Halloween Jello Shot.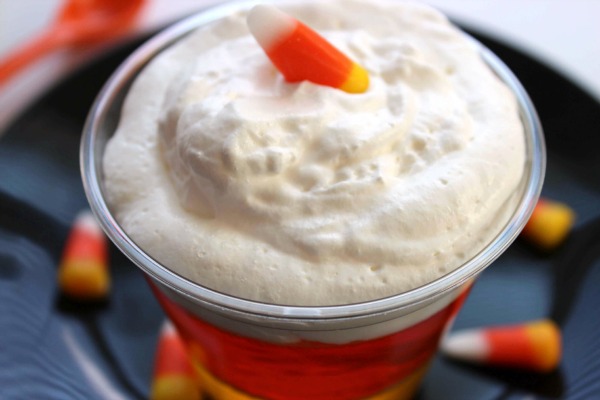 Candy Corn Jello Cups
Ingredients
1 Lemon Jell-O Gelatin (3 oz)
1 Orange Jell-O Gelatin (3 oz)
8 oz thawed Cool Whip
1 1/3 cups boiling Water
Candy Corn
Instructions
If you can find tall shot glasses they will work best, but any clear glass will do.
Place lemon gelatin in a bowl and add 2/3 cup boiling water.
Stir well until dissolved and allow to cool.
Fill each cup 1/3 full of yellow and place in refrigerator.
Place orange gelatin in a bowl and add 2/3 cup boiling water.
Stir well until dissolved and allow to cool.
Fill each cup 1/3 full of orange and place in refrigerator.
Top each portion with whipped topping and garnish with a piece of candy corn.
Refrigerate until ready to serve

View the Recipe Index for a complete list of recipes. For the most recent vegetarian recipes posted on the blog, go here. To view all the recipes post on the blog, go here.