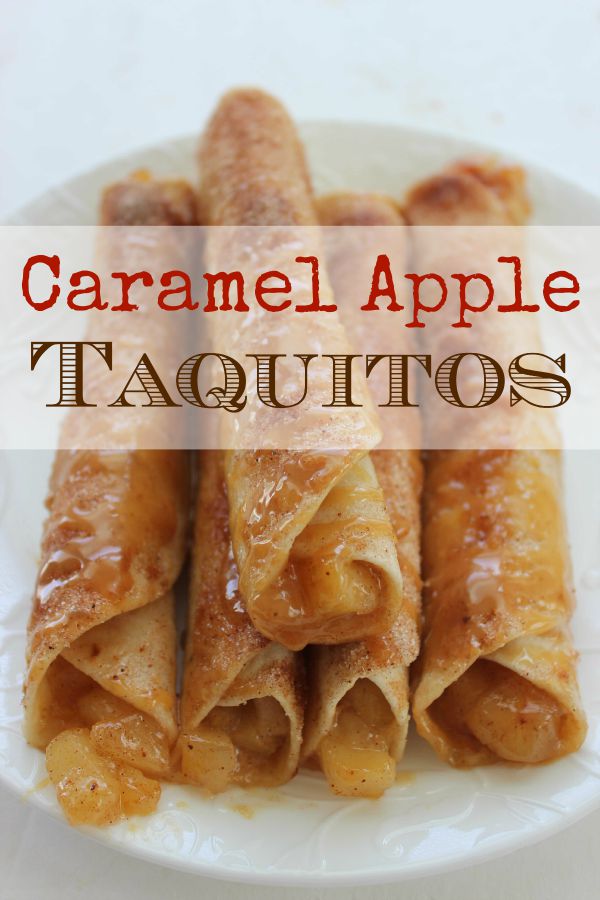 What do you get when you cross tacos with apple pie? Yummy desserts that are surprisingly delicious and perfect for fall. One taste of these Caramel Apple Taquitos and you might just fall in love. You already know you love the combination of caramel and apple–now it's time to try this yummy combination a whole new way.
Unlike other apple desserts like apple pie, these Caramel Apple Taquitos are actually surprisingly easy to make. Simply heat the tortillas, fill with caramel and apply pie filling, roll, and top with sugar and spices. Bake them for 15 minutes and you'll have warm, gooey fall desserts that your whole family will love. Your house will smell amazing too!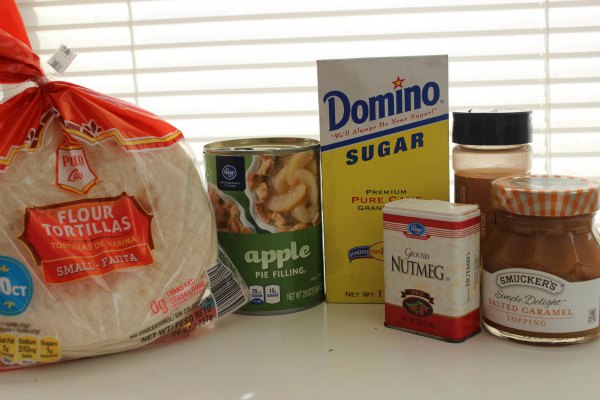 Are you one of those rare people who only eat desserts a little at a time? (Unlike me… I could polish off all of these taquitos in no time flat!) If so, these fall desserts are perfect for you! Eat one or two of them and then wrap and freeze the rest for later. They freeze and reheat well, so you can keep a stash in the freezer for the next time you want a yummy, homemade dessert but you don't feel like cooking.
As the days turn shorter and the weather turns colder, fall is the perfect time to bake some warm and comforting homemade desserts and these Caramel Apple Taquitos are perfect for the job!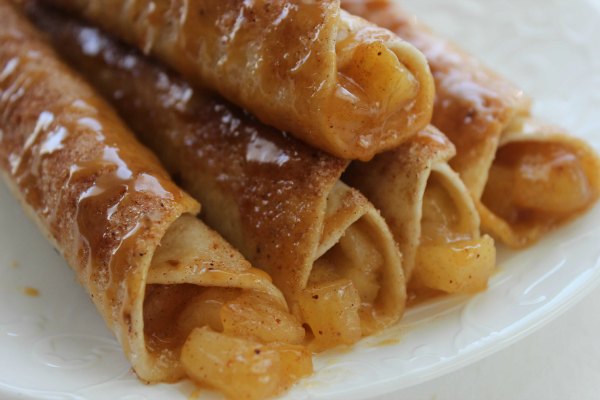 Caramel Apple Taquitos
Ingredients
12 Flour Tortillas
5 oz Caramel Sauce
20 oz can Apple Pie Filling
1/4 cup melted Butter
1/4 cup Sugar
1 tsp Cinnamon
1/4 tsp Nutmeg
Instructions
Preheat oven to 350.
Butter a 9×13″ dish and set aside.
Combine Sugar, cinnamon and nutmeg in a shallow dish and mix well. Set aside.
Chop pie filling into small size pieces.
Microwave tortillas for 20 seconds to soften.
Pread tortilla with thin layer of caramel sauce.doen the middle.
Cover caramel with diced apple filling.
Roll tortilla and place in prepared dish.
Brush with butter and sprinkle with sugar mixture.
Repeat with remaining tortillas.
Bake for 15 minutes of until golden aand bubling on ends.

View the Recipe Index for a complete list of recipes. For the most recent vegetarian recipes posted on the blog, go here. To view all the recipes post on the blog, go here.