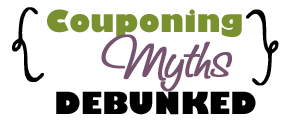 The first comment on the recent Indy Star article is what I consider a coupon myth. Hopefully, I can clarify some common coupon myths with this new series: Couponing Myths Debunked.
The biggest problem I find with coupons is that most of them are for products I will never use or even with the discount the item is still more expensive than the generic or store brand.
This is a common misconception about couponing. There are coupons out there for a variety of products. Maybe not everything you use if you are brand specific or have special dietary needs. Eventually, though, if you are patient, a coupon will come around.
For example, many people think coupons are only for junk food items and convenience items. Yes, there are many coupons out there for those items but there are organic coupons and coupons even for produce. Examples: .50/1 Dole Golden Pineapple printable coupon, a recent $1 off Target Strawberries coupon, $0.50 off ONE Pampers Wipes 60 ct. or larger, and Whole Food deals.
I always buy name brand products for much less than generic products. I don't just use a coupon because I have it. I combine a store store with a coupon and this allows me to maximize my coupon.
For example, this week at Meijer, Kellogg's cereal is on sale for $1.79. I will combine a $1 off 1 Kellogg's coupon from a previous week's insert (Red Plum from 6-7-2009) and will only pay 79 cents for a box of cereal after my coupon! In contrast, if I just used that coupon recklessly without a sale at regular price around $3, I would still pay $2 for that same box of cereal.
When there aren't any coupons for your favorite products, what do you do? I suggest visiting the manufacturer's website and browsing around. Sometimes you will find coupons directly on their website. If you don't, email them and ask if they have any available or if they can direct you to coupons. Sometimes just by asking, they will send you some coupons in the mail.
For those of you who think there are never coupons for the products you need, what kind of products are you look for? Let me know as I LOVE a challenge!
Have a coupon myth you would like debunked? Email me at bargainbriana@gmail.com.