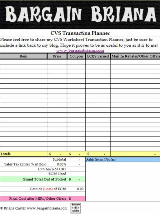 Ever wonder how I plan my weekly CVS Scenarios? I use a spreadsheet I designed to work out my weekly scenarios. I play around with it each week to maximize my extra bucks to the fullest extent possible and share them with you. It is quick and more efficient than scribbling on paper and trying to work the deals out. Interested? You can do this too very easy with my CVS Transaction Planner. available for a FREE download HERE.
I recently redesigned the spreadsheet and uploaded it to Scribd, which is a free document storage and sharing community. It will give you the option to download it as Excel, Adobe, or Plain Text.
If you do not have Microsoft Excel on your computer, you can go HERE to download Open Office. It is a free program and works will work with any computer system. It is something you might be interested in downloading even if you don't need my CVS Transaction Planner.
If you have any questions about my spreadsheet or have suggestions on how to improve it, please let me know by contacting via one of the many ways HERE or just leave a comment below. (Just because I know how it works, doesn't mean everyone else can read my mind!)
::CVS Bloggers:: Please feel free to embed this document into your blog for your readers to use or share this link with your readers. If you would like me to design this spreadsheet with your header & links for download on your site, please contact me to discuss further.
Stay Tuned: I have many more spreadsheets in the works: Walgreens Transaction Planner, Mail in Rebate Organizer, and a Spreadsheet to keep track of your savings!
Don't miss out on any deals: Subscribe to my free newsletter via email or RSS.