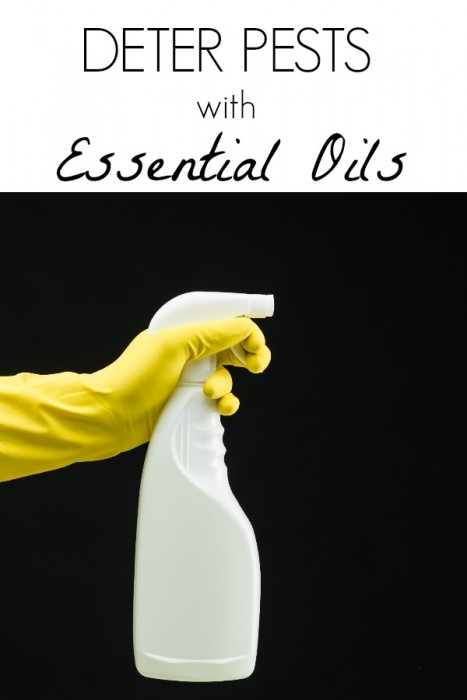 There are natural, organic ways to get rid of those little pesky pests right out of your garden and home. Essential Oils are perfect to add to your arsenal to eliminate everything from ants, lice, ticks, aphids, mosquitos and everything in between. Deter pests with these essential oils to get rid of them once and for all.
Spearmint Essential Oil
Spearmint Essential Oil is one oil that you want on hand. Check out this list of pests that just can't stand spearmint: Ants, aphids, caterpillars, fleas, gnats, lice, moths, and spiders. Fill a small spray bottle with water and add in 15 drops of Spearmint Essential Oil. Spray this on the perimeter of your house, both on the outside and on the inside. Spray any infested area directly. If using in the garden, spray one part of the plant and wait a day to make sure there are no adverse affects like burning of the plant's leaves before you spray it all over the plant.
Peppermint Essential Oil
The mint family is excellent to plant in the garden to naturally deter pests. When you can't plant it, use Peppermint Essential Oil. It gets rid of these insects: Ants, aphids, beetles, caterpillars, fleas, flies, lice, moths, and spiders. Add 10 drops of Peppermint Essential Oil to a 16 oz spray bottle filled with water. It is safe to use both inside and outside.
Lemongrass Essential Oil
Lemongrass has been used for centuries as a way to keep bugs at bay. Lemongrass Essential Oil is a concentrate of that amazing plant. These bugs are not a fan of it though: Chiggers, fleas, mosquitos, and ticks. Citronella candles are made from Lemongrass Essential Oil and are used quite often in backyards to keep mosquitos at bay. It is not wise to burn them inside as they are can make you queasy. Using Lemongrass Essential Oil in a diffuser though eliminates this problem and is safe for indoor use.
Thyme Essential Oil
Thyme Essential Oil is perfect to add to your diffuser or to your natural bug spray. Little crawly bugs like beetles, chiggers, and ticks will stay away from areas that have been sprayed with Thyme Essential Oil.
Are you ready to purchase some of these awesome oils! You can purchase high quality Young Living Essential Oils (my favorite brand!) over here or you can read about how to get a wholesale discount and the potential to earn FREE essential oils. Read all my past posts on how I use Essential Oils.