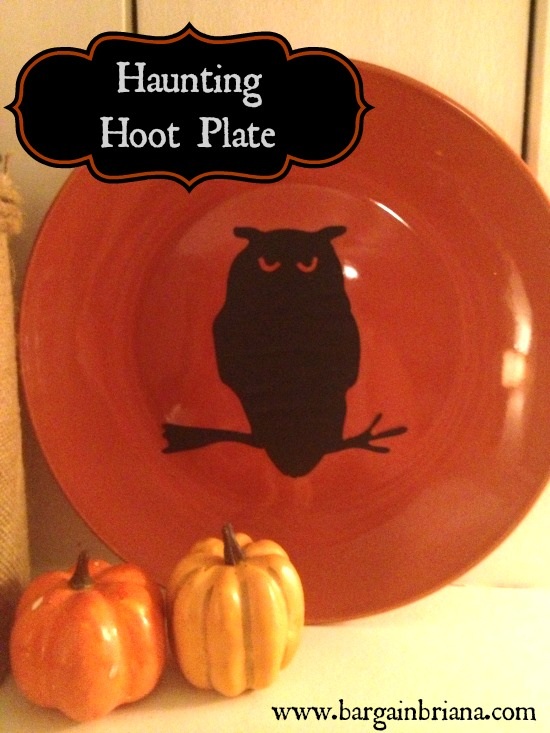 A decorative plate is the perfect way to dress up a small space, and this Haunting Hoot Plate gets the job done on a tight budget. This craft can be done for just pennies and in a matter of minutes using Dollar Tree supplies. In no time, you can have your own Haunting Hoot Plate to display on your mantel or anywhere you can use a little frugal festiveness. Take a look below at how to make your own.

Haunting Hoot Plate
Supplies Needed:

Orange ceramic plate
Craft glue
Package of owl cut outs

That's it! As we mentioned above,  you can find all of these supplies at your local Dollar Tree store. Be sure to shop in the Halloween themed aisles and craft aisles.
Directions:

Start with a clean surface. To do this, wipe the plate down with a damp rag and then dry it well.
Apply some craft glue to the back of your owl cutout.
Press the cutout to your plate. Run your fingers over it firmly so that it is flat to the plate and all air bubbles are removed.
Add a few drops of glue to your finger and spread it over the owl. Don't worry if it looks white, as it should dry clear. Make sure you cover the entire cutout with glue. This will seal it to the plate.
Finish the plate by making sure all air bubbles are smoothed out and the glue is evenly dispersed.
Once your owl is dry, your plate is ready to display! Prop it up on a metal plant stand, on a knick knack shelf, or even incorporate it into your Halloween table centerpiece. For around $2, it is not only a fun Halloween craft, but a frugal one as well.
This plate is not food safe and will not survive the dishwasher. Therefore, do not use it to serve food and do not wash it any way other than spot treating it with a damp cloth.
Now, head over to your Dollar Tree and grab these supplies so you can get started on your own!
View our past DIY Halloween Craft posts.
Did you enjoy this post? Find more money saving tips here.