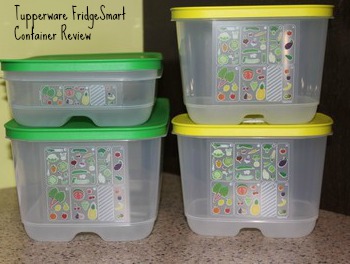 Tupperware Brands has incorporated new technology into its FridgeSmart containers to keep fall produce fresher for days longer! This will help you save time and money on your produce. These redesigned FridgeSmart Container offers better air circulation and advanced moisture protection. The Tupperware ACE (Atmosphere Controlled Environment) system creates the optimal environment that fruits and vegetables need in order to stay fresh longer. The FridgeSmart containers have a special 3-way venting system that helps regulate the atmosphere inside the container by balancing the flow of oxygen coming in and the carbon dioxide going out.

What I Love About the Tupperware FridgeSmart containers:
Containers nest together when not in use. I HATE it when I get a bunch of random containers that will not stack! These nest together wonderfully!
Easy to read produce storage chart on each container. These are trouped from light to heavy "breathers." This is because some vegetables require more oxygen to stay fresh and crisp than others. I love that it is right on the container so there is no extra thinking or another set of paperwork to reference.
Dishwasher safe.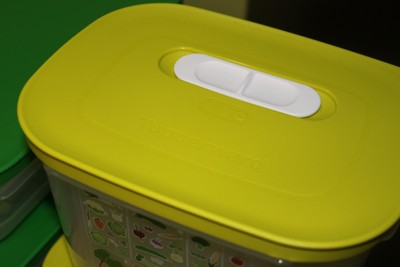 The Tupperware FridgeSmart containers are available in five different sizes to accommodate different types of refrigerators and storage needs. Prices start at $15.
Read more reviews from Bargain Briana or at the Buzz by Bargain Briana.
Products were provided by Tupperware in order to facilitate this review. Post was written 100% by me and was not edited by the sponsor. Read more on my Disclosure Policy.