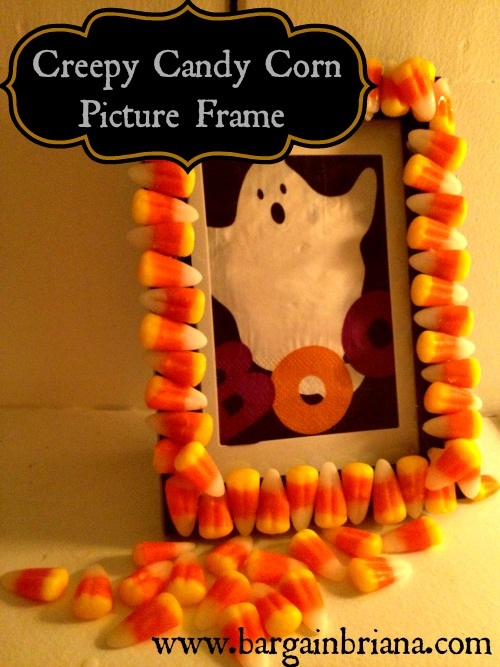 Do you have some pictures of the kids in the Halloween costumes you wish to display? Or perhaps you just want a creative way to bring the spirit of Halloween in your home? Either way, this Creepy Candy Corn Frame is the perfect inexpensive craft for you to try. All it takes is a few common supplies from your local Dollar Tree store, and in no time you can have this tasty looking frame ready for use. Take a look!
Creepy Candy Corn Frame
Supplies Needed:
1 small picture frame
1 package of candy corn candy
Hot glue, glue gun
Halloween napkin (optional)
As we mentioned before, all of the above supplies can be found at your local Dollar Tree store. You will want to look in the Halloween décor aisles and craft supply aisle.
Directions:

First, apply a strip of hot glue along one edge of the frame.
Working quickly, start pressing candy corn candies to the frame. You can place them all pointing in the same direction if you wish, or you can alternate them as we did in the sample picture.
Continue to add another strip to the edge of the frame and repeat the process as noted above. You will want to do this until all four sides are covered.
To clean up edges or any gaps in the frame, simply layer more candy corn candies on the frame.
Allow the frame to dry for one hour before using.
 You can now either place your own picture inside of the frame, or you can do as we did in the sample picture and place a Halloween themed napkin inside. Simply cut the napkin to fit and place it inside as you would your picture of choice.
Your finished product is a yummy looking picture frame that screams Halloween! Place it anywhere in your home you could use a little pop of holiday fun. Head over to your Dollar Tree and gather up these supplies so you can get started on your own today!
View our past DIY Halloween Craft posts.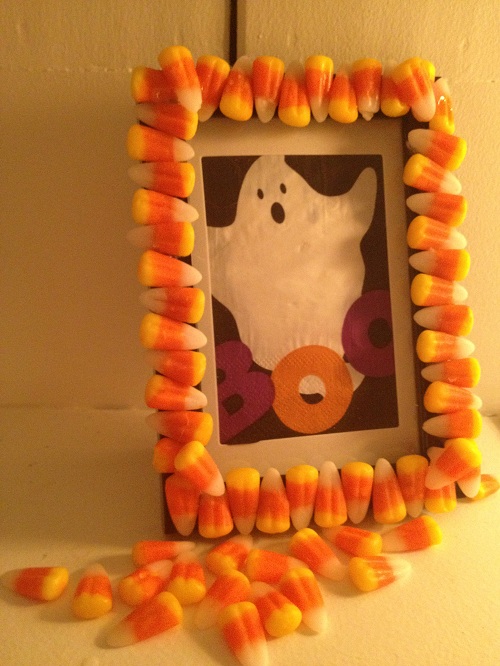 Did you enjoy this post? Find more money saving tips here.