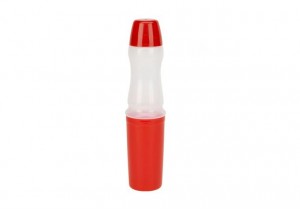 The FREE ebook for Holiday Crafts is such a cool little gizmo. Of course, since my kids love pancakes, I jumped right on this review product. It is also an cheap and inexpensive way to make your breakfast fun.
Somehow the cap of our Good Cook Pancake Creator was missing. I'm not sure if it wasn't sent or when the kids ripped open the package if it disappeared at that time. Regardless, it made things a little more difficult as you are to shake the contraption to mix the batter. However, because the cap was missing, it was difficult to get a good shaking going while keeping my finger over the hole.
One thing I learned if you have to really make sure all the lumps are gone from the mixture as it will clog up the nozzle. I also thinned out my pancake mix just a bit as it made it easier to create your designs!
I have the sweetest son! I said, "These really don't look that professional." He said, "Mom, these are the best because you made them." He can be soooo sweet when he wants! :) The kids were really excited about these even as I compare myself to some of the really cool creations at Pancake Creations.
Some of my designs…
My favorite, though, was the Luigi which Eli asked me to create based on his favorite stuffed animal. His older brother won this for him while we were at Kalahari a few weeks back. It's somewhat recognizable as a Luigi!
FREE ebook for Holiday Crafts is priced at $7.99 online and at many retail outlets. If you purchase online at FREE ebook for Holiday Crafts you will also receive a FREE Pancake Turner with your purchase!
What do you think? Would your family enjoy this? 
I received items to facilitate this review from GoodCook.com. Post was written 100% by me and was not edited by the sponsor. Read more on myDisclosure Policy.