This recipe is so easy and so delicious! I mean, how can it go wrong if it's made with Nutella, right? (Except for my oldest son, who hates Nutella with a passion, which I can't figure out at all!)
Ingredients
Pastry Sheet
Flour
Nutella
Berries of your choice
Egg (optional)
Sugar
This is SUCH a easy recipe! If you follow on Facebook, you received a teaser about how much the rest of the family enjoyed this tasty treat! When you add the fruit, it's almost healthy! ;)
Roll out your pastry sheet with a rolling pin. This is where the flour comes in as you may need the flour so it doesn't stick to the rolling pin, of course.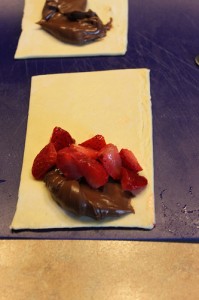 I cut the pastry sheet into 6 rectangle. You could also cut into 4 rectangles if you want them to be bigger.  Scoop a bit of Nutella (about a spoonful) and a about a spoonful of the berries of your choice onto the pastry.
Then fold over to close. Seal by pressing the edges of the pastry dough tight. Use a fork to make a decorative edge. Then cut a slit or two in the top of the pastry.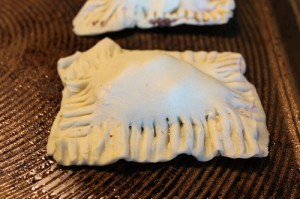 At this point you can either brush with beaten egg or spray cooking spray on the pastries. I tried it both ways and they tasted fine either way. Sprinkle with a bit of sugar.
Cook at 400 degrees for around 15 minutes or until golden brown.
The family LOVED this recipe! I tried it last night with frozen berries as we were out of fresh. They were a little juicier so next time I might thaw the berries and rinse before just placing them in the pastry.
Based on this recipe from Dam* Delicious.