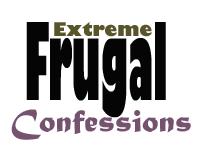 Extreme Frugalness. Tight, cheap, stingy? You know what I'm talking about and personally, I love it.
fru·gal
– Practicing or marked by economy, as in the expenditure of money or the use of material resources.
ex·treme
– Most remote in any direction; outermost or farthest: the extreme edge of the field.
– Being in or attaining the greatest or highest degree; very intense:
Okay, so you know you have a confession to make. To what extremes have you gone to save a buck this week or in the past?
I'll start.
When I was younger, way back in the day before I even know what it meant to be frugal. I was frugal by complete accident. When I was a young lassie living at home, when I would run out of toothpaste, instead of buying more, I would cut the tube in half and "scoop" out the toothpaste on the inside with my toothbrush.
Now that I look back, germs were probably having a crazy party in that tube of toothpaste. It does still make practical sense as you know there is always quite a bit of toothpaste still left in the tube. Probably enough for a trial size tube. Currently, I have quite a stockpile of toothpaste so it isn't necessary but I may start that one back up again.
Now it's your turn.
Link up or leave a comment. Leave it anonymously if you want – we won't tell!