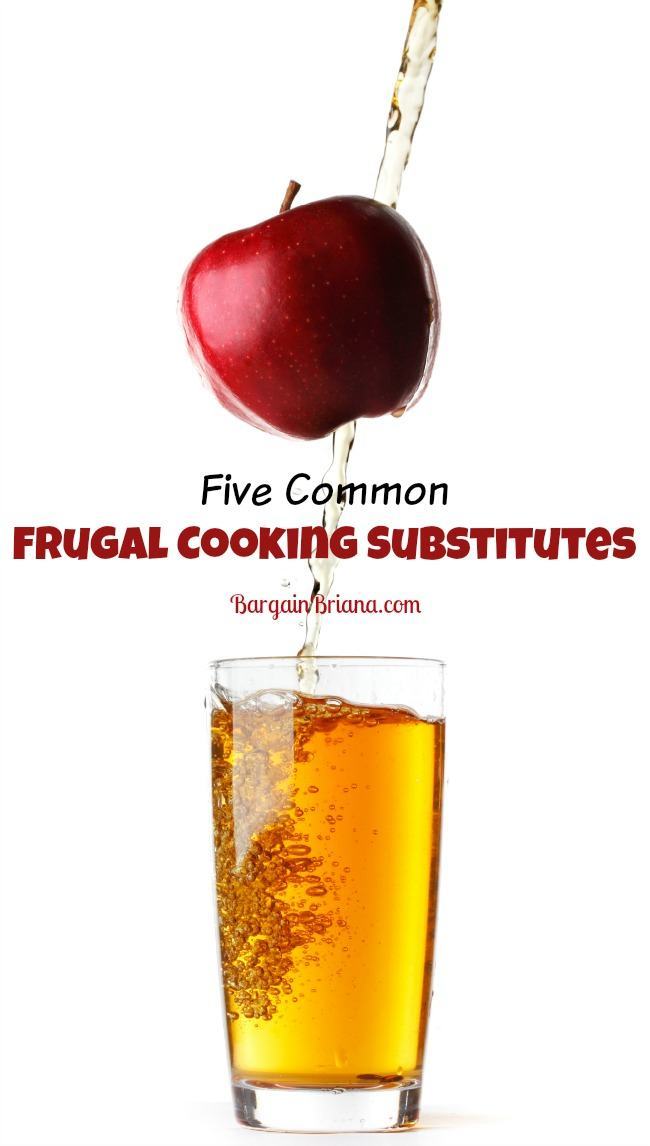 Cooking substitutes have been around for as long as there have been family members to pass them along. Plenty of folks have found themselves in a pickle and not had that ingredient they needed. They then experimented and discovered that other solutions exist. Not only do multiple options give us choices, they also save us money. Being frugal extends to the kitchen as well of course.
There are countless cooking substitutions out there, but here are five of of my favorite "must-know" options to save you cash:
Five Common Frugal Cooking Substitutes
Juice Over Wine
Many recipes call for wine, be it white or red. These recipes can get expensive if you are popping open a bottle to make it. This is especially true if you don't generally drink wine. Still, you want the flavors to remain intact. What to do?
Simple…. For red wine you can use cranberry, pomegranate, or red grape juices. For white wine recipes, apple juice works fantastic. Now that is saving some serious cash if the wine is expensive!
Dark Meat For White Meat in Recipes
Some folks "demand" white meat and can't eat the other parts of the chicken, but the vast majority of those folks will never notice it as part of a recipe. Dark meat is a bit more fat laden and tends to add more flavor anyway. Consider dark meats if you are making a recipe where the chicken is built into the dish. This is great for casseroles in particular.
Turkey Instead of Beef
Turkey has gotten quite popular and is accepted more and more in recipes around the world. Here in America, it has been slightly slower to catch on. People do love their beef in these parts, right? That said, turkey is a fantastic substitute that can save you money and your arteries, all at once.
Cottage Cheese Instead of Ricotta
Cottage cheese is great as a kitchen substitute in many ways, but it is a dead ringer for ricotta cheese recipes for sure. If you love lasagna, you have got to try subbing this out. You will be shocked at how tasty, creamy and yummy this substitution is. Then you get to go to the store, price the ricotta cheese and smile at your savings.
White Vinegar For Lemon or Lime Juice
Lemon and lime juice is not terribly expensive, but it is something we find ourselves out of often. If you don't have it, that makes it expensive because you then have to take the time to go get it, spend the gas, etc… Why not use white vinegar, a staple in virtually every kitchen, instead?
Did you enjoy this post? Find more money saving tips here.