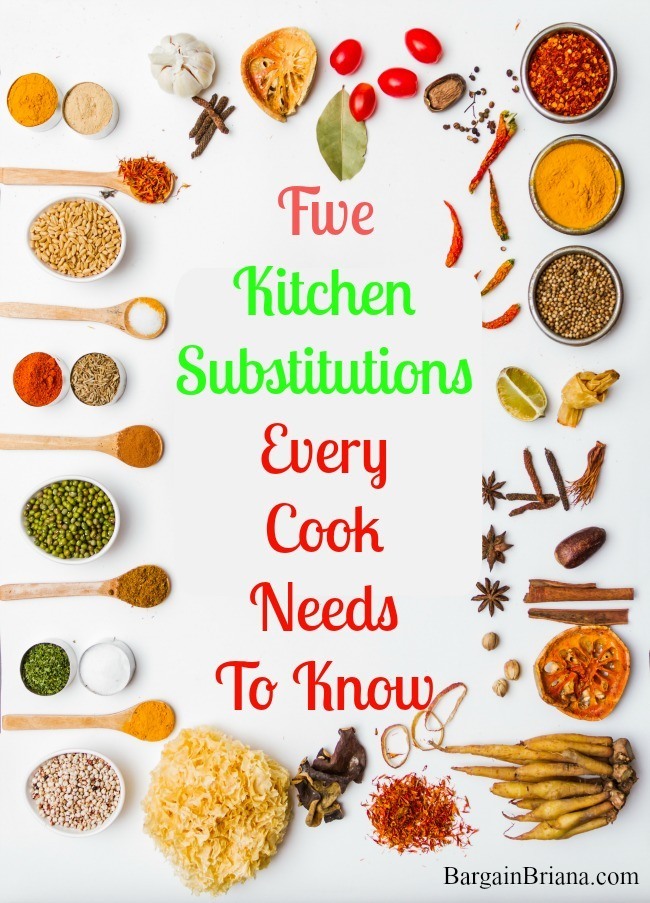 Having the right things on hand is absolutely vital to the majority of cooks, but the best cooks can get by regardless. Most ingredients out there have multiple substitutions and can easily be replaced with things around the kitchen. Knowing what can be used in place of other ingredients can make you a more diverse cook and provide you with other options. Options are always a good thing in the kitchen, right?
Five Kitchen Substitutions Every Cook Needs To Know
Here are five of those kitchen substitutions that everyone should know if they want to spend time in the kitchen:
Yogurt for Buttermilk
Buttermilk is not something most people have sitting in the fridge so last minute recipes can be a problem. When you run into this, keep in mind that yogurt (plain) can be used in equal parts for recipes that call for buttermilk. Some even prefer it.
Mayonnaise for Egg
Eggs are easy to run out of and that usually happens at the worst possible moment. If you are caught without them but have some mayo on hand, simply use a couple of tablespoons for each egg the recipe calls for. Eggs are one of the most flexible ingredients on the planet but you have to be willing to accept slight variations in the flavors. If you are cool with that, substitutions are aplenty and mayo is leads the way.
White Sugar plus Molasses for Brown Sugar
This is one that is used all the time in the South and is commonly referred to as "Mo Sugar" in those circles. This is one tasty way to make brown sugar and it works great in recipes that  call for it. Use about 25 percent molasses to each full cup of plain sugar to mix it up and enjoy. This stuff is so good that they really should bottle it and sell it as a product.
Vinegar for Lemon Juice
Vinegar can be used for many things and lemon juice is certainly one of the best. If  your recipe calls for lemon or juice and you have none, just get out the vinegar and use in equal parts. Your taste buds will never know the difference. It will give the dish a slightly more acrid taste but that is very minimal and most would never even notice.
Sour Cream for Mayo
Again, this is not exactly a good idea for a sandwich but in a recipe it works wonderfully. Get out the old sour cream and you will never need mayo in a recipe again. The texture is excellent if you are working with a creamy textured recipe and it spreads perfectly.
These are five of the more common substitutions that can be helpful around the kitchen. What are  your favorite substitutions that you use regularly?
Did you enjoy this post? Find more money saving tips here.