I love to try new International Delight flavors. So when I saw the International Delight Carmel Marshmallow flavor in sugar free and fat free, I knew I had to try this variety. Thinking even beyond just as a creamer for my coffee, the wheels were already turning about a fun after school snacks I could create with this flavor.
First, I tried the International Delight Caramel Marshmallow with my coffee. Of course it was a hit. It is just a shame that you can only purchase this variety in the pint size. Then, I thought it would be fun to incorporate this variety with cookies.
Cookies and milk are a after school staples. How about dipping your cookies in International Delight coffee creamers.
Any of the varieties, really, will do. Just dipping them a then enjoying is quite tasty with the gooey taste of melted marshmallow with a hint of caramel.
You can take it to another level though especially with the heat wave we are going through in the Midwest by making this a easy frozen treat.
Simply dip your cookies in the International Delight Coffee Creamer of your choice and then freeze. It is a delicious yummy cold treat that is very simple to do. It is an almost homemade ice cream sandwich!
Sign up for Member Delights and have access to coupons, giveaways, new recipes, and more each month. Stay up to date on the latest International Delight news on Facebook, Twitter, Instagram, or Pinterest.
This is a sponsored conversation written by me on behalf of International Delight. The opinions and text are all mine.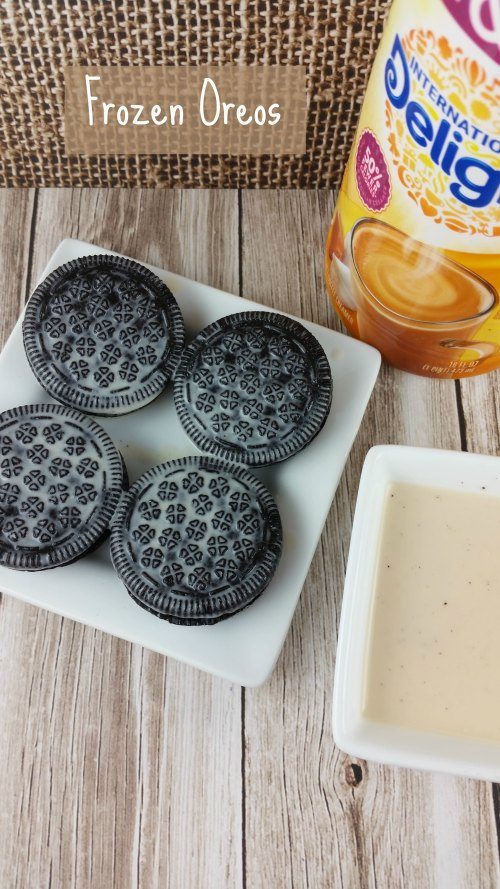 View the Recipe Index for a complete list of recipes. For the most recent vegetarian recipes posted on the blog, go here. To view all the recipes post on the blog, go here.