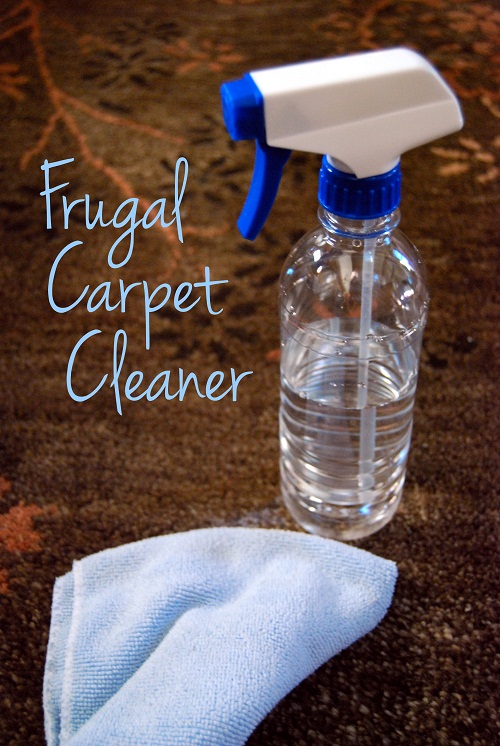 It happens to the best of us. No matter how careful we are, those stains tend to just appear out of nowhere on our carpets and in our home. This problem is multiplied if you have kids or if you have pets in the house. They seem to track in mud and other stains no matter how hard you try and keep the outdoors, outdoors!
Here is a frugal solution for those carpet stains when they happen. Why spend money on expensive, toxic carpet cleaners and stain removers from the store when you can easily make your own frugal carpet cleaner from items in your kitchen cupboard!
Frugal Carpet Cleaners
Carpet Spot Remover
Ingredients:
Baking Soda
White Vinegar
Water
Brush
Rag or Towel
This solution is great for those tough stuck on stains and it also helps remove any carpet odors that seem to have attached themselves deeply into the fibers on your carpet. Wet the area of the stain or smell slightly with water, then sprinkle on baking soda (you may want to test this in a small area of carpet first to make sure it won't remove the colors in your carpet). Let the baking soda sit for a few minutes and then spray on some vinegar. Let the vinegar have a reaction with the baking soda before you start scrubbing with the brush (you can find and inexpensive scrub brush at the dollar store). Scrub until you can no longer see the stain. Then use the towel to soak up the mixture. You can also use more water to clean up the baking soda/vinegar mixture from the floor, or you can run over the previously stained area with a carpet cleaner or shampooer if you have one.
Now if your entire carpet needs a good cleaning here is a recipe for a good frugal carpet cleaner for your shampooer.
Carpet Shampoo
Ingredients:
4 tablespoons hydrogen peroxide 3% solution
2 tablespoons white vinegar
1 tablespoon dish soap
2 quarts water
Mix all the ingredients together and pour into the shampoo tank of your carpet shampooer. Use the same as you would any store bought carpet shampoo. You may want to add a scented dish soap to avoid any vinegar smells that might remain in your carpet after shampooing.
With these two recipes you should be able to keep your carpet and your home nice and clean and not have to stress so much about the inevitable mud and other stains that will always find a way inside your home.
Have you tried either of these frugal carpet cleaner recipes before? What stain remover method works best for you?