Become an enchanting Geek goddess, a flirty feline or your favorite country star. On Halloween, the possibilities for awe-inspiring costumes are endless. When choosing attire for the big night, opt for sassy over provocative.
Do-it-yourself Halloween costumes also don't have to be expensive. In fact, many pieces of clothing and accessories can be taken from your closet. These feminine costume ideas scream girl power and will do in a pinch when your budget is tight.
Wonder Woman
What woman didn't adore Wonder Woman as a child? This action-packed female superhero had it all – superpowers, sexy knee-high boots and an all-American-inspired ensemble. Create this look at home on the cheap by acquiring clothes and accessories from thrift shops and your closet. You'll need red square-toed boots with a white stripe that can be hand painted on, a solid red cami or tube top corset, and blue soffe shorts. Hit up your nearest craft store and grab a package of adhesive stars, gold sparkle scrapbook paper, glue, and a sports headband. Spray the adhesive stars on the shorts, cut out a WW logo to glue on the front of the shirt, and add a gold strip to the headband. The glitter paper can also be used to make cute cuffs for each arm.
Rosie the Riveter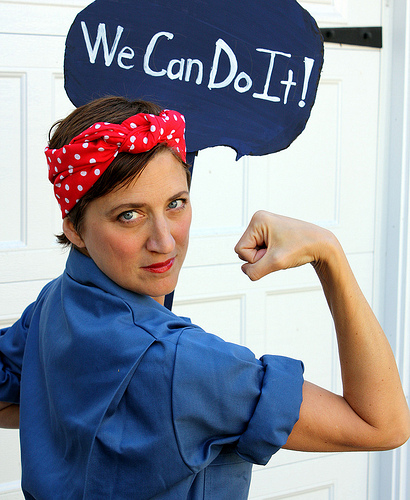 Combine the attributes of the strong-willed and powerful Rosie the Riveter with the classic pin-up girl look for an ultra-sassy Halloween costume. To create this look, you'll need a button-up blue shirt with the sleeves rolled up, tucked into a pair of shorts, and a skirt, leggings, or jeans – your choice. If you decide to wear a stylish skirt, be sure to get a pair of cute panties from yumdrop.com in case of unexpected gusts of wind. The key to pulling off Rosie is with the hair and makeup. A headband is essential. While her traditional bandana is red with white dots, you can also choose a bandana with an American flag or any design that incorporates strong pops of red. Apply a heavy coat of black mascara, black eye liner, and a hint of bronzer to enhance your cheekbones. No Rosie look-a-like would be complete without her classic red lips.
Swan Lake Star
Release your inner ballerina by becoming the sexy, yet mysterious Black Swan for a night. Dress in sheer black tights and a black leotard. You'll also need a black tutu or black tulle fabric to create your own. Plain black flats or ballerina slippers will complete your attire. Found at your local craft store, attach black feathers to your costume. Consider creating a set of black feathered wings by attaching the feathers to a piece of cardboard. Pull back your hair into a stylish, tight bun and add a ballerina tiara if desired. Incorporate a few black ostrich feathers into your updo to pull the look together. Liberally apply dark, sparkly makeup around the eyes and finish with a heavy coat of mascara to make your eyes really pop.
Find more DIY Costume Ideas here.
Photo Credit: Creative Commons image by SBT4NOW
Did you enjoy this post? Find more money saving tips here.