As part of our 2013 goals and resolutions, I'm working with cooking more at home and eating from our pantry. I decided last week would be a good week to plan a couple of mini-cooking plans for freezer meals. Our spring is about to get extremely busy and I would love to continue eating a majority of our meals at home and skipping out on fast food and convenience foods.
I've done freezer cooking in the past and doing an entire month's of meals at one time does not work for me. It is exhausting and I get burnt out quickly. Plus, the last time I did this it took me two full days and I was physically exhausted and sore.  I recently purchased Not Your Mother's Make Ahead & Freeze Cookbook , which I'm absolutely loving. In the book there are 10 freezer plans to fit your needs, which include your shopping list and instructions on which order to complete your meals. I choose the 2 hour breakfast plan and the 2 hour vegetarian plan.
I also had two recipes I wanted to try from the Fix, Freeze, Feast cookbook for potato soup and mashed potatoes as well as a bulk cooking recipe for spaghetti sauce. I was extremely pleased with the one recipe I had used from the Fix, Freeze, and Feast cookbook for the Pecan Crusted Chicken tenders, which I had frozen a couple of weeks ago. This cookbook doesn't have any freezer day plans but there are tons of suggestions on how to create your own plan in both books.I shopped and cooked on two separate days, which I highly suggest. I shopped at three different stores. I picked up a few things at Sam's and Meijer but was able to fulfill most of my shopping at ALDI. I used Ziplist to combine all the ingredients I need into one manageable plan.
The two hour breakfast plan included the following: Individual Greek Egg Casseroles, Better Instant Oatmeal Packets, Bulk Batch Pancake Mix, Cinnamon Banana Bread, and Mix & Match Muffin Mix. This plan took me right around 2 hours and filled my freezer with 10+ meals for at least 4 people! This two hours also included 15 minutes to clean out a spot in the freezer for all my new meals. I was able to save quite a bit of time by using my KitchenAid Stand mixer for mixing and kneading. Already, we've sampled the oatmeal packets, cinnamon banana bread, and the muffin mix, which we made into blueberry muffins!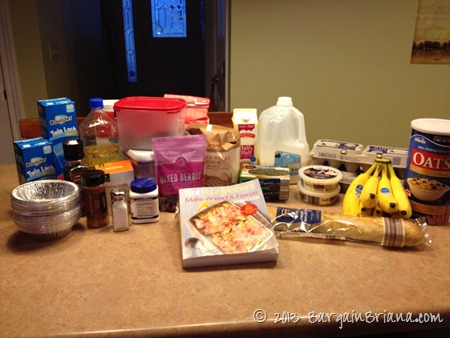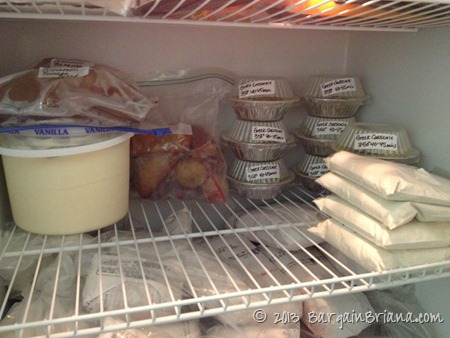 Next up was the vegetarian meal plan in 2 hours or less. This did take me longer than 2 hours as I had quite a bit of stuff to chop up and dice. I used my Ninja Prep quite a bit for chopping.  I would guess around 3 hours. This included: Spice Mix, Pepper Jack and Chile Burritos, Stovetop Ratatouille, Sun-Dried Tomato Pesto, Pizza Kits including homemade pizza dough. Some of these recipes we can add meat to later like the Ratatouille, the pesto, and the pizzas. Otherwise, having vegetarian meals in the freezer will save me from having to make two separate meals most nights.
If I do this again, I will make sure I make copies of all the recipes ahead of time so I can flip easily. The menu plans have instructions on what to do but they aren't specific, you have to reference the recipe within the book, which can be messy and time consuming flipping page to page!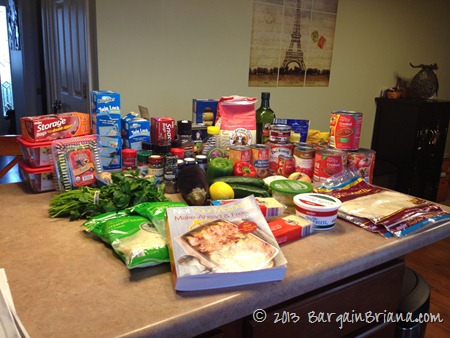 I then took a few hours break before I tackled the potato project. I had 20 lbs of potatoes, which I had purchased for $1.99/bag. Awesome deal, right? I was most certainly not looking forward to all that peeling, though. I get a little crazy and impatient with the peeler and have numerous times cut myself with that silly gadget. I was happy to discover once I dug into the recipes that one called for baking the potatoes and scooping out and the other for peeled potatoes. If the kid didn't freak out at the site of brown in their potato soup, I probably wouldn't even peel them as I prefer a chunky unpeeled potato. Again, the KitchenAid Stand mixer came in quite handy for the mashed potatoes.
I completely spaced on the bulk slow cooker red sauce and did this one a few days later as it didn't require any fresh ingredients.
Overall, I'm pleased with my freezer and bulk cooking plans. We've eaten several of the items I've cooked and nobody has cried yet! (Kind of inside joke as often someone in the house will cry or a throw a fit about something I have cooked. I promise I don't make them eat anything that is disgusting or I wouldn't eat if I was a carnivore!) I'm going to start doing this a couple of times a month to save on time and money!