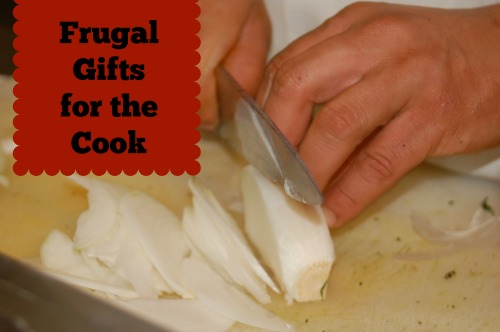 Buying gifts for a cook is fun because there are so many things to choose from. On the other hand, some of those gadgets can be expensive and you don't really know what a cook wants and doesn't want. Some cooks prefer to use old-fashioned methods while others want every gadget known to man. When you buy frugal gifts for cook, it might be best to focus on the things they would not buy for themselves.
Efficiency in the Kitchen
Most cooks prefer an organized, clean kitchen. This makes it easy for them to find what they need for the meal they are working on. If you can help organize the kitchen, this would most likely be appreciated. Consider some of the gifts below. As part of the gift, you can install the item as well. This will save you money, but will give them the full benefit of the gift for the kitchen. Some of these may sound expensive, but since some can be made by hand, they are actually very frugal.
Hanging pot rack
Shelves on the wall
Hooks on the wall
Hooks inside cabinet doors
Fresh Herbs
Gifts don't get much more frugal than seeds. Planters can be found at yard sales or on clearance sale. Used planters can be decorated to match the décor of the kitchen. Every good cook prefers to use fresh herbs when it is possible. All you need to so is plant a few seeds and label the containers they are in. You can print labels or paint them on the planters if you prefer. Either way, plant the herbs that match the type of cooking the cook enjoys. For example, plant Italian herbs for someone who enjoys Italian cooking. You can also plant herbs for baking and daily meals.
Decorative Items
Most cooks don't go out of their way to buy decorative items for the kitchen because they are busy buying useful items for the kitchen. Instead of buying decorative items, why not be really frugal and make them from common items found in the kitchen. Some examples are offered below.
Curtain holders made from bent forks and spoons
Clock made on a plate with a fork and spoon as the hands
Ornaments from Salt Dough using a mixture of equal ½ parts salt and water to full part flour. For example, ¼ cup salt, ¼ cup water, and a ½ a cup flour. Make ornament using cookie cutters. Paint and dry in oven of microwave. Use egg whites to add gloss.
Frugal gifts for the cook are going to be gifts that are either useful or help embrace his or her love of cooking and the kitchen. The best gifts are going to be the ones that are made by hand. After all, food is the ultimate gift made by hand and that is what this person constantly gives. He or she is very likely to appreciate the thought and effort you put into a gift that is made just for them.
Did you enjoy this post? Find more money saving tips here.