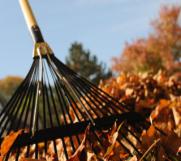 Get in top shape this fall and get outside with these great fitness suggestions from Top Trainers!
Top Trainers suggest you, "Fall into fitness with outdoor autumn activities."  A good reminder, "Please note calories burned per hour depend on an individual's weight. Calories listed below are approximate numbers.  The harder you work, the more you burn." (Top Trainers)
Rake Leaves: Burns 200-250 Calories/Hour
Tighten Your Triceps
Alternate lead arm
Add lunges to work your lower body
Jog with the pup: Burns 200-400 calories/hour
Jog or run with your pup
Jog in place at stopped intersections
To increase the work-out try, doing jumping jacks or high-knees at stopped intersections
Pumpkins: picking or lifting?: Burns 150-500 calories/hour
Use a 5, 10, and 15 lb pumpkin as free weights
Standing or sitting, hold the pumpkin in front of you and rotate slowly from left to right, working your abdomen
Try standing squats using the pumpkin as your medicine ball
Outdoor Yoga: Burns 300-400 calories/hour
Take your yoga routine outdoor for some fresh air
Try Top Trainer, Ellen Barrett's 45-minute Yogini class.
Try Top Trainer from HealthyFitBodies.com: Blend Method Calories Burned varies
Cardio  *   Thighs   *   Core
Abs       *    Buns       *    Yoga
Ballett  *    Pilates    *   Latin Dance
Plyometrics   *    Interval Training   * Kickboxing
Information courtesy of Top Trainers DVD set, (www.buytoptrainers.com).