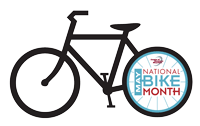 May is National Bike Month.  What a great reason to get fit and help save the environment!  According to the 2009 American Commuter Survey, 50% of people from my hometown use bicycles to commute to work and only 7% of those commuters are in college!  Wow!  I had no idea so many people still biked in the city.  The League of American Bicyclists is a National Sponsor of Bike Month.  They will be hosting tons of Bike Month Activities across the United States.  Key dates for 2012 are:
Wednesday, May 9, 2012 – Bike to School Day.
Monday, May 14 – 18, 2012 – Bike to Work Week
Friday, May 18, 2012 – Bike to Work Day
Among The League of American Bicyclists main goals: improve safety for bicyclists.  You can brush up on your safety and bike-riding skills with helpful reminders listed on their site.
You'll also find many events already scheduled and listed for this exciting month.  Don't miss out on the fun!  Last year I posted about the Bike Event in West Lafayette, Indiana.  See if your town has these biking days planned.  If you don't see your event on the list, but know your community will be hosting one- be sure to add it on their site.
Want to host a National Bike Month Event in your community?  This Free PDF Guide can help you organize, create, plan, and implement a successful Bike Event in your neighborhood.
Even if you can't find an event near you or don't have time to host one, you can still participate in National Bike Month by simply riding.  Get out there and enjoy the fresh air, fun, and freedom of a bicycle.  Oh, and don't forget to wear your helmet!
Want deals on Top Outdoor & Fitness Brand Gear?  Try Left Lane Sports and you can save up to 70% on all your purchases.  You can sign up for a FREE Membership today.