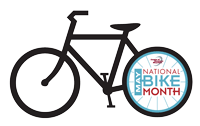 May is National Bike Month!   This May  The League of American Bicyclists is promoting a National 'Ride Your Bike to Work Day' with several sponsored events designed to encourage riding your bike year-round and especially on Friday, May 20, 2011.
Will you be riding your bike to work next Friday?
'Like' League of American Bicyclists on Facebook to learn more about National Bike Month!
West Lafayette readers:
You're invited to participate in the event, 'Ride your Bike to work' on Friday, May 20, 2011 beginning at 7:30am in Tapawingo Park in West Lafayette, Indiana.  At this event you can meet the mayor of Tippecanoe county, have snacks, and network.  This event is sponsored by IU Health Alcoa. Don't forget to wear a helmet and follow the rules of the road.  You can save gas and get in a good exercise. Enjoy the ride!
Get Fit Deals: