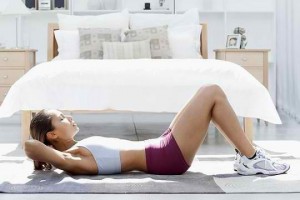 This is a very fitting post for many of us, like me, who have been snowed in and exercise class has been cancelled! I will say I finally tried the Zumba for PS3 that I purchased awhile back last night. I wasn't nearly as much fun as the "in real life" class but it was good enough that I got a sweat worked out once I figured out how to do it!
Here's a list of exercises you could try at home without any equipment necessary!
Push-Ups
Squats
Sit-Ups/Cruches
Wall Sits
Planks
Side Planks
Dips (with a coffee table)
Calf Raises (with or without stairs)
Jumping Jacks
Stretch!
Sometimes we get stuck at home like I did this week because of the snow and ice storm.  Although I was not able to do the cardio I would have liked, I still was able to do some of these exercises.  These are just some you can do without any equipment at all.  I really like to use my stability ball and 4-pound medicine ball when working out at home.  Also, if you have any sort of gaming system or dvd player, I would recommend trying workout games and videos!  The best way to get fit is to monitor your diet and exercise equally.  Stay positive!  :)
Get Fit Items: