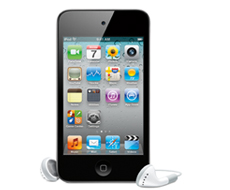 Your workout playlist can be your best friend when it comes to exercise.  Music can keep you steady and help give you that last big kick in any race.   If you like to buy your songs as singles, I suggest you create a fun mix of songs you LOVE that are upbeat (preferably 130 beats per minute or more).  It's not wise to choose music with lower beats per minute because they tend to have a lulling effect, causing you to move slower.  You may love Fun's 'Tonight, We Are Young.' when you're driving or hanging out, but that doesn't mean it has to be in your workout mix.


Lately I've been trying to save more money per month by cutting back on my music download budget (among other things).  Instead of paying per song, I'm using the Free Pandora App on my iPhone and working on my playlist.  Although I don't always get the exact songs I want to hear, I'm building my lists by using the 'thumbs up or down' and paying close attention to my artist stations.  These are a few suggestions to help refuel your workout playlist:
Radio:
Magazine:
Leave a comment: What's your current 'go-to' song?  You know, the one stuck in your head and set on 'repeat.'
Happy Friday!