The Carrabba's Italian Grill near us is ALWAYS busy and it looked so fancy, we were scared to take our wild children in with us. However, one Sunday morning this past winter before shopping we were in the area and decided to go ahead and try it even with the kids. We were so impressed with how warmth and the friendliest of the staff. Not sure if this is standard practice, but our server brought out dough for the kids to play with…it kept them entertained like play dough! For readers with kids, Carrabba's offers a Bambino Menu which includes Pizza, Spaghetti, Ravioli, Chicken Breast, and Chicken Fingers priced around $5 per meal.
Carrabba's serves cuisine based on traditional Sicilian fare with bold flavors inspired by Creole & Southern flavorings picked up by their family stepping off the boat in Louisana on their trek to Galveston, Texas. Their recipes have been passed down for four generations. Sign up for Carrabba's Amici (friend) Club to receive recipes, cooking tips, special offers, and invites to Amici Club events.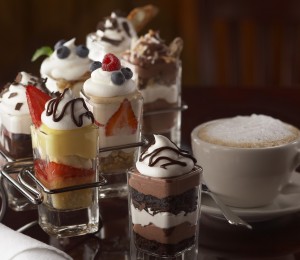 Carrabba's is also introducing a new line of mini-desserts. They are smaller versions of Carrabba's most popular desserts – Dessert Rosa, Tiramisu, Cannoli, as well as nightly specials such as Zabaglione, Chocolate Mousse, and Chocolate Espresso Mousse. My mouth is watering right now, is yours?! I love the idea of smaller portions of the best desserts are a great idea. We usually shy away from the desserts when we eat out because the portions are so huge even if you share with a friend. And these little guys are so cute – check them out to the left.
Gift Card Promotion: Reward yourself while giving to others. Purchase $100 in Carrabba's gift cards from November 1 through December 31, 2008 and receive a complimentary $20 Bonus Card. Note: Shipping is charged on purchases under $250. Or you can just win my $50 Gift Card Giveaway & (2) Free Mini Desserts. Scroll down to see how to enter.

Here's a Special YUMMY Freebie for everyone to enjoy at home:
Carrabba's Mini Cannoli Recipe (If you are unfamiliar with a Cannoli check out wiki. This recipe actually looks like a doable one for me.)
1½ cups            ricotta cheese
½ cup               powdered sugar
½ teaspoon       vanilla
¼ teaspoon       cinnamon
½ cup               mini choc chips
1 cup                Mascarpone cheese

Mix ricotta cheese and powdered sugar in a mixer with a wire whip until smooth (5 minutes). Stop the mixer and scrape the sides of the bowl with a spatula.  Add vanilla, cinnamon, and chocolate chips.  Mix on low speed until blended.Stop the mixer and add the mascarpone.  Mix by hand with a wire whip until blended. Place mix into a piping bag to serve.

To serve mini cannoli:
Pipe cannoli mix into a tall shot glass about halfway full.
Layer a tablespoon of crumbled cannoli shells.
Pipe cannoli mix to the top of the glass.
Top the mix with a teaspoon of chopped pistachios.
HOW TO WIN?
Carrabba's wants to me to give one reader a $50 Gift Card Giveaway & (2) Free Mini Dessert Certificates!

Easy Entry: Visit www.carrabbas.com and start planning your visit. Basically, give me your order! Browse around too because there are interesting and fun facts throughout the site.
Bonus entries (Up to 4 additional entries):

Blog about this giveaway.
Grab my button. (It is on my sidebar)
Subscribed to my free newsletter via email or RSS. (You don't want to miss out on any deals/giveaways!!!)
Digg, Technorati, Twitter, Stumble, etc. (Just choose one please!) If you twitter, be sure to include me (@bargainbriana) in the twitter so it see it!
Leave a separate comment for each extra entry. It is very important that you leave a separate comment for each additional extra entry!
Ends Sunday, December 21st around 11pm PST. (As long as you can still comment you can enter!) Winner will be announced on the 12/22 and I will contact you to get your mailing address. Only US residents for this giveaway! (If winner doesn't respond within 48 hours with their mailing address, I will pick another winner.)