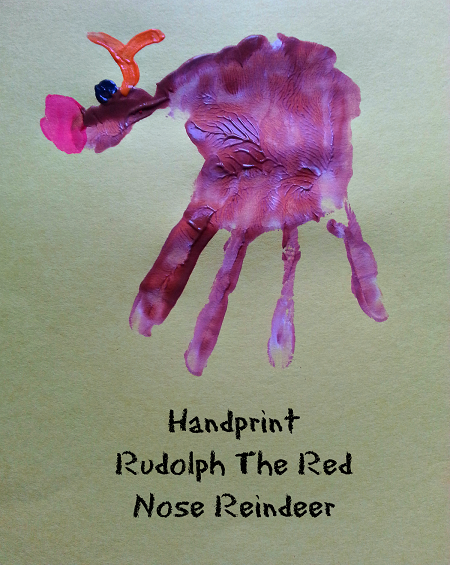 With the holidays right around the corner and your little ones underfoot sometimes it's fun to have a fun and easy hands on craft for them to do.  This Handprint Rudolph The Red Nose Reindeer Craft is super easy to do and tons of fun for kids of all ages.  With just a few supplies on hand and perhaps a frame to put it in after you are finished you can even embellish it some and create a simple framed Christmas decoration for a gift or to hang each year to remember how small your child's hand was at that age.
HANDPRINT RUDOLPH THE RED NOSE REINDEER CRAFT
SUPPLIES:

Construction Paper or Card Stock
Brown, Red, Black, Light Brown & White Paint (purchase here)
Permanent Markers
Baby Wipes or Damp Paper Towels (or consider buying a smock for $3.79!)
Adorable children willing to be painted
Tips:
Setup your craft station or table with newspaper covering the surface just in case there are spills.
Prep each child with a paint smock or old shirt that is safe for spills and paint drops.
Have children wash and dry hands thoroughly.
Give each child a piece of card stock or construction paper in front of them.  Then paint one hand with brown paint completely covering the back of hand with paint.  Have them firmly place hand in center of paper, paint side down.  You may need to assist with this and make sure they don't wiggle hands much when removing.
You may rinse their hands in the sink or simply wipe down with baby wipe or paper towel at this time.  Dip one thumb in red paint and dab at the end of the thumb impression on the page.  This will create Rudolph's red nose as pictured. Remember this handprint craft is all about the kid creating it!
You may paint or draw on eyes, smile, antlers, etc. with your choice of paint or permanent marker.
These make great Christmas gifts for the grandparents or if you have several children you could easily create a collage of reindeer as a fun family Christmas decoration to feature on the mantel each year.  Make sure to date and write the child's name in the corner or on the back so you will remember whose hand created which reindeer.  Embellish with glitter, pom poms or any other small decorations you have on hand.  This is a simple and fun Handprint Craft that kids of all ages will enjoy creating with you this year.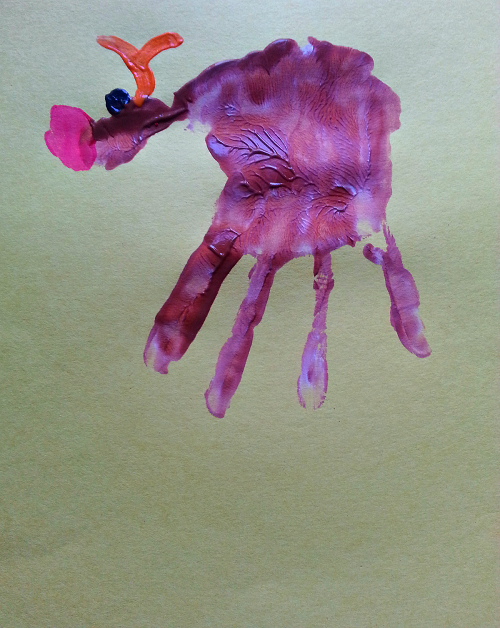 Did you enjoy this post? Find more money saving tips here.