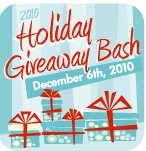 We've had such success and fun with the past giveaway bashes, we are doing it again! I've teamed together with 11 other bloggers to bring you some great holiday giveaways.  I will post the giveaways as they are live. You can also visit this link to see the latest giveaways posted.
The giveaways will begin tomorrow morning at 9 a.m.
You will want to check out the other 11 participating websites for additional giveaways that may not be listed on my site!
Read the complete Win Giveaways Terms!