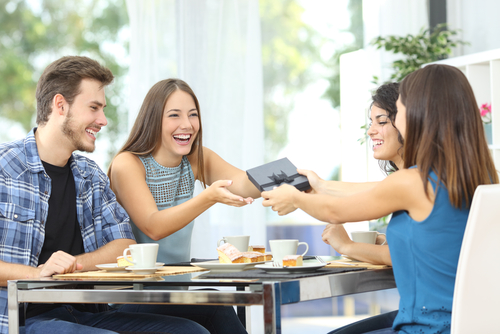 Since we're talking about safety, home safety systems are one of the most thoughtful and useful gifts you can give. While installing home security systems used to be time consuming and required rewiring and cutting holes into walls, it's amazing how straightforward a new security system can be. Lorex home camera systems offer whole home HD quality security camera systems.
Moving into a new home is exciting, but it's also a lot of work. And while it's easy to invest in a good bottle of wine or gift card for the new homeowners, some friends and family deserve a truly thoughtful housewarming gift.
Here's a list of practical and incredibly useful housewarming gifts for a range of budgets sure to get you invited back for dinner parties and the like.
Keep it Cool
The gift of comfort is one thing, but the gift of "green" and a lower power bill? Gifts don't get much better than that. New thermostats are incredible, easily installable and controllable, and can really save you money and the environment. Gifting a new, green thermostat is also incredibly thoughtful for older generations who tend to be more susceptible to extreme temperature changes. It's also a great way to get seniors slowly introduced to new technology that can help keep them safe and challenge their brain.
Tom's Guide provides a great breakdown of the best high-tech thermostats on the market. Nest is very popular, but the publication points out its competitor, EcoBee3, has some extra features worth noting, especially since both units are priced right at $250. The top-rated, budget-friendly thermostat is from Honeywell and comes in at just under $100. But keep in mind these units will quickly pay for themselves by reducing your energy bill, so they are really the gift that keeps on giving.
Lock it Up Tight
Who doesn't sleep soundly at night knowing their home is locked up tight? Who hasn't locked themselves out of the house a time or two? And while a spare key under the mat used to be a charming notion, these days it's just plain scary! The new generation of door locks are as diverse and failsafe as we only could have imagined a decade ago.
From smart locks you can install yourself in a few hours to thumb-print recognition and the ability to open your deadbolt with a cellphone app, this kind of technology keeps you safe and saves you headache. And, there are so many different versions that offer features like Wi-Fi and customized guest access that you're sure to find one that meets the specific needs of anyone on your gift list.
Safety First
Since we're talking about safety, home safety systems are one of the most thoughtful and useful gifts you can give. Installing a home security system is no longer a time-consuming process that requires complicated rewiring. Lorex by FLIR offers  home HD security camera systems that don't need professional installation and can be remotely monitored by a cell phone or tablet.
Clean House
One of the best gifts you can give is the gift of time, not to mention relaxation. And what's more relaxing than coming home from a long day of work to find someone has done the vacuuming for you and your floors are clean as a whistle?
While most people wouldn't drop a few hundred bucks on a robotic vacuum cleaner, they probably wouldn't mind having one to share the cleaning chores, making it a great gift for everyone from a bachelor or busy family to a single parent.
Did you enjoy this post? Find more money saving tips here.