It's November, which is the month of Thanksgiving. This makes me think of gratitude, gift shopping for the holidays, and of course, gobbling down Thanksgiving food. Oh and saving money! The holidays are when I put my Discover CashBack Bonus to use! Here's a few ways you can earn and use your Cashback Bonus.
Gratitude
Let's talk Gratitude! Giving Tuesday is a movement to create a national day of giving to kick of the giving season. This happens the Tuesday after Thanksgiving. Discover is a proud founding partner of Giving Tuesday, and is offering a 2% match to donations to the company's Cashback Bonus charitable partners on Giving Tuesday, as well as waiving transaction fees for donations made with a Discover Card.
It is easy to donate the rest of the year too! Discover cardmembers can donate their Cashback Bonus to a list of charities on Discover's website, which range from helping children, veterans, wildlife, and many other notable causes.
Holiday Dinners
Discover Deals is offering 5% CashBack Bonus at a number of merchants, including stores like Michael's, Crate & Barrel, Bed, Bath, and Beyond, and Kmart. These are all great stores to purchase your cooking supplies, housewares, as well as stocking up for your fun holiday crafts!
Shopping
When the holiday dinner is over, it is time to get shopping! Another way you can put your Cashback Bonus to good use is to purchase gift cards from Discover's merchant partners. These partners include restaurants, entertainment, department stores, and many others. It is easy to find something for everyone on your list this holiday season.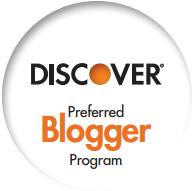 My views are my own and do not necessarily reflect the views of Discover Products Inc. and its affiliates. This post was sponsored by Discover Card. Rest assured, this Post was written by me and was not edited by the sponsor. Read more on my Disclosure Policy.