The holidays can be stressful and much of the stress we put on ourselves! Over the past few weeks, I've heard so many people comment that they couldn't wait until the holidays were over and they could relax. One way to lessen your stress for 2014 holidays is to start planning, organizing, saving, and shopping earlier than you normally would. I'm talking about starting NOW, folks, especially if you want to make DIY gifts!
Organization is key.
Your organization can be as simple as a notepad to keep track of the people you will buy for. Start gathering those ideas now so you will know how much you should be saving throughout the year. Another way to gather ideas and earn Cashback Bonus at the same time is to visit ShopDiscover.com, Discover's exclusive online shopping portal with more than 200 top online merchants. Click through to shop at that retailer's website for your recipient, and use your Discover card to earn 5-20% Cashback Bonus on that purchase! SOOOO easy!
Start Savings for 2014 Holidays
One fun way you can start building a cash reserve for the 2014 holidays is to participate in our 52 Week Challenge, which gives you an amount each week to deposit into your savings account. You can pretty painlessly save $1,378 in a 52 week period by depositing the amount of the week each week!
Plan DIY gifts NOW. 
Many people LOVE to make their own gifts. Don't get stressed out in November and December when you start your projects. Start purchasing items for your projects NOW and start making them now! Every year around November I think I'm going to do a DIY project for my loved ones and by the time December rolls around, I'm so burnt out that there is absolutely no time to squeeze in anything DIY.
Do you plan ahead? Any tips to keep organized?
Keep up to date on all the latest Discover promotions on Facebook, Twitter, or YouTube.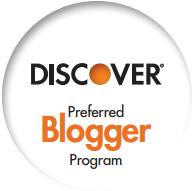 My views are my own and do not necessarily reflect the views of Discover Products Inc. and its affiliates. This post was sponsored by Discover Card. Rest assured, this Post was written by me and was not edited by the sponsor. Read more on my Disclosure Policy.