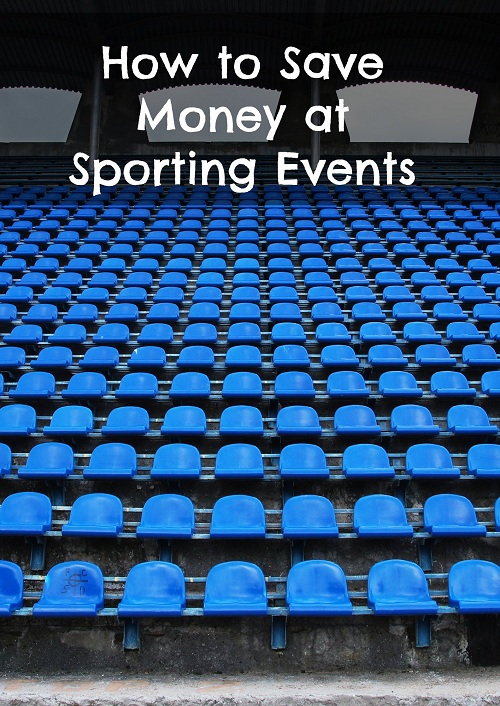 Going to a sporting event has always been an exciting and fun way to spend an evening. Unfortunately, it is also a fairly expensive way to have a good time. The game tickets, food, drinks and souvenirs are all going to cost you a chunk of change and it amplifies depending on how large your family is. Fortunately, you can overcome most of these obstacles through planning and a bit of common sense. Here are several tips on how to save money at sporting events.
How to Save Money at Sporting Events
Take a pass on the souvenirs
Souvenirs of your favorite ball club are great and all but they can probably be had for much cheaper. A good example is ball caps. Buying a ball cap at the stadium of your favorite team can easily set you back $50. Head to a local store and you can probably get the same hat for half that amount. Buy it before you go and then you get to wear it to the experience. Other souvenirs are overpriced as well such as jerseys, flags, pennants and other similar items. If you want a souvenir, take some photos, buy a cheap program to commemorate the experience and hold on to your ticket stubs.
Eat before you go
Yes, having a hot dog at a baseball game is a big deal. Peanuts and Cracker Jacks and all that jazz are part of the experience. If you truly want to do all that stuff, go ahead and do it. If you really are there for the sport and the game, however, simply eat before you show up. This move alone will save you loads of cash with a larger family.
Buy tickets in bulk
Tickets are always cheaper when you buy them in larger quantities. If you have several people in your family that would like to attend, consider buying a group rate or bulk discount deal. These will save you a ton of cash and allow you to enjoy some of the other parts discussed above. (Or simply save you that much more cash)
Keep an eye out for last minute bargains
Ball games are not always planned out experiences. With most things, heading out for a good time requires planning to save money. With a sporting event, going at the last minute might save you even more. If you have a website that you like to keep an eye out for tickets or even Craigslist, scan it as you get close to game days. Tickets that are still unsold the day of the game or the day before are likely to be severely discounted. In fact, going to the ticket office can sometimes be fruitful if the game is not close to sold out. It never hurts to ask.
Consider the nosebleeds
One surefire way to save money at sporting events is to sit in the cheapest areas. These areas often are poorly placed and far from the action, but you still have a great time. Despite their reputation, the nosebleed seats are still pretty awesome seats. You get a birds eye view that is unlike anything you have ever experienced and the thrill of the crowd remains the same. There is nothing like hearing that roar while you watch a sporting event.
If you want to save money on sporting events, these five tips would be a great place to start. What ideas do you have?
Did you enjoy this post? Find more money saving tips here.