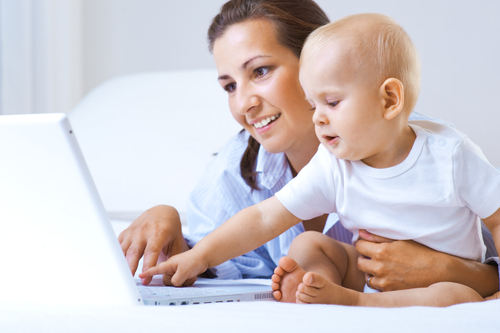 More mothers are working from home than ever. Between 1999 and 2012, the number of mothers who stayed at home rose from an all-time low of 23 percent to 29 percent, the largest percentage since the 1980s, according to Pew analysis of government data.
This trend has accompanied a rise in the number of people who work from home at least one day a week, which now includes approximately 30 percent of Americans, reports The New York Times based on American Community Survey data. Furthermore, 76 percent of unemployed homemakers say they would be more likely to seek work if they had an opportunity to work from home, a Kaiser Family Foundation survey found.
The good news is that work-from-home opportunities are more abundant than ever thanks to the Internet. But scams also abound, and finding legitimate job opportunities can be challenging. Here are some tips for how to avoid scams and find genuine work-from-home positions.
Steer Clear of Scams
The FBI's website provides tips for avoiding common scams. Many involve asking the victim for money in exchange for investing in a startup fee. A variation of this requires investing money to become a distributor with a promise of earning money for recruiting other distributors, but you never see a return on your investment. Being suspicious of employers who ask for money will help you avoid such scams.
Other scams offer you money to mystery shop or attempt to use you to transfer money or merchandise on behalf of overseas criminals. Others attempt to steal personal information by requesting financial data or scans of identification documents. Avoid providing personal information to an employer whose reputation you don't know, and don't provide anyone with information they don't need about your bank account, credit cards, Social Security Number or the like.
Know Where the Jobs Are
To find legitimate work-from-home opportunities, conduct research online by using sites like Bankrate and Business Insider that provide a review of some legitimate home-work and telecommuting careers.
Your skill set defines the range of home work-opportunities available to you. For instance, if you have good people skills, you might consider working in customer service as a call center representative. If you're a good typist, you can work as a medical transcriptionist. If you have additional secretarial skills, working as a virtual assistant is an option. If you're good at sales, you might try working for a company such as Amway. If you have writing, graphic design or web design skills, you can find work as a freelancer.
Use Smart Job Hunting Strategies
After identifying some viable work-at-home options, using a smart job-seeking strategy increases your success at finding work. Tulane University outlines a three-stage strategy for successful job hunting.
Before starting your job search, take some time to define your goals and prepare your job hunting materials. Define a specific job title, type of employer, location and salary, and set a target timeline for your job search. Prepare materials such as your resume, online profiles, cover letters, references, phone and email contact information, and a calendar and spreadsheet for planning and tracking your job-hunting activity.
Once you start your search, start building a network of leads by identifying company hiring managers and agency recruiters. Begin submitting applications and preparing for interviews. Follow up after interviews. Rehearse your negotiation strategy for when you begin receiving offers.
After you get hired, it's also recommended to follow up so that you remain on good terms with prospective employers in the event you need to start job hunting again. Let employers you've interviewed with know you're no longer available. Update your online profiles, and remove your resume from job-hunting sites.
Did you enjoy this post? Find more money saving tips here.