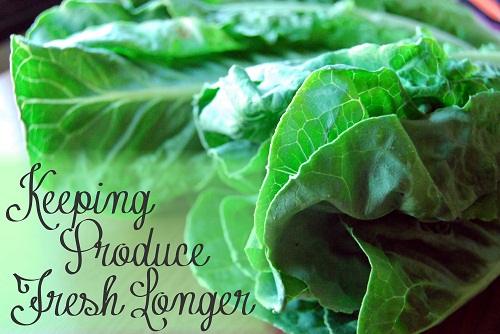 Keeping Produce Fresh Longer
We have all done it. We head to the store and buy a big cart full of things that look so good; apples, bananas, strawberries, etc. We get them home and put them away in their proper places and then go about our business, in the back of our mind, still excited about that fresh produce.
A few days later you smell something awful when you open the fridge. Upon further inspection into the produce drawer you find that the bananas are brown, the strawberries are moldy and the apples are starting to shrivel. All that money spent heads into the trash as you throw away the once beautiful goods and wash out the drawer.
What went wrong? Nothing really. Produce isn't meant to last as long on your other foods that are more "shelf stable". It's not processed in any way and doesn't have a way to protect its-self from going back once it's been picked.
Luckily there are a few things you can do to keep this from happening so you can work on keeping your produce fresh longer. The next time you buy some fresh produce, try these out!
Do a quick search and find out if the produce you bought produces ethylene gas. This harmless gas does nothing but make the produce ripen quicker. Produce that creates ethylene gas should not be stored with produce that doesn't.
Examine all produce before you buy it. Don't buy anything overly ripe or anything that has bruises or spots on it.
Don't store potatoes, tomatoes, or onions in the fridge. Doing so makes them lose their flavor quickly. Keep them in a cool dark place instead.
Citrus fruits should be stored in the fridge to maximize their lifespan.
Store salads and lettuce in a bag with a small amount of air in it.
Don't wash any produce until you are ready to eat it. Moistness will promote mold growth. If you wash berries and don't eat them all make sure to freeze what you didn't eat so they don't spoil.
Don't buy too far ahead of time. Buy only what you can use fresh in a week. Any produce that you buy beyond what you can use in that timeframe should be frozen or dried.
Keep any spoiled produce out of the fridge. If one piece spoils, they soon all will if it's not taken out quickly.
On the same note, check your fridge daily for what might be ready to go bad and make sure it's prepared in one of the day's meals.
Shop at the farmer's market. This will ensure you have the freshest produce possible and it will have a longer life.
What are your best tips for keeping produce fresh longer?