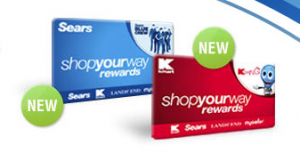 Sears and Kmart have recently launched a new loyalty rewards program called Shop Your Way Rewards. This new loyalty program is very exciting and works at purchased made at Sears and Kmart in stores and online.
Use your Shop Your Way Rewards card with your purchases to earn a minimum of 1% back on your qualifying purchases. You will also be eligible for additional bonus offers, and no receipt required returns. You will also qualify for the Kmart K'Ching Suprises from now until 1/30/2010 when you scan your membership card during checkout at participating Kmart stores.
If you are a Kmart or Sears shopper, make sure you are signed up so you are can start earning!