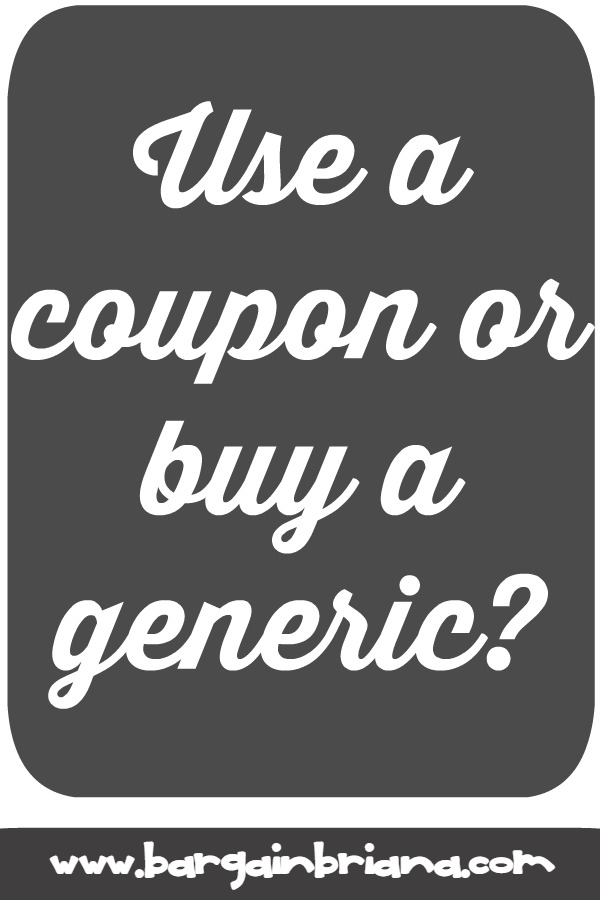 As you continue on your couponing journey, one important thing will be for you to figure out How To Know When To Use A Coupon Instead Of Buying Generic.  Many people will tell you that using coupons is a waste of time when you can easily buy generic products for lower prices.  While this is true in some situations, there are many instances when it simply is not.  We are here to help give you guidelines to consider when pricing your purchases.
How To Know When To Use A Coupon Instead of Buying Generic
Make a price list.  The first thing you can do to help make sure you are using coupons on products at the right price points is to make a master price list of the items you most commonly purchase in brand and generic.  This can be everything from toothpaste to flour or sugar in your kitchen pantry.  It may take time to build a price list, but it is worth it until you can learn your average price on products you regularly buy.  When you have a master price list on hand, you can check the sale price and the coupon value to see if it will result in a lower price than what you would normally pay for the generic.
Download our Price Book Template free printable here.
Use coupons on products where generics aren't comparable.  Sometimes there are brand products that you just won't substitute a generic for.  Some families this is laundry detergent while others it may be a specific razor brand.  In that case using a coupon is always going to result in better savings for your family than if you switched to the less savory generic product.
Use coupons when the price is lower than the average generic price.  The obvious answer to this question is that you should use coupons on brand products when the price is lower than the average generic price.  One example for our family is the purchase of a generic store dish washing liquid.  It usually is only $.89 and works great, however when on sale there are often coupons that make the brand equivalent only $.50.  In that instance the generic ends up being more than what the brand would be with a coupon.
Choosing generic versus brand is sometimes a preference in the individual product itself.  However, it should in most instances be based upon what will be the most financially beneficial for your family.
Looking for coupon matchups? Find all the stores we cover here at the Store Coupon Matchups Page. Need coupons? Print out coupons for all your favorite products here.
Did you enjoy this post? Find more money saving tips here.