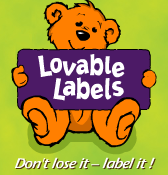 I have a child going into Kindergarten this year and on his school supply list it states "Please Put Your Child's Name on Everything!" In the past, I've made my own labels or used a marker or not labeled items <eek>.
Yes, you can make your own labels at home. I've done this in the past. However, they peel off or wear off when they are just a normal return address type of label. For kids, you need something super strength.
In steps Lovable Labels. These are durable and waterproof, which will withstand your dishwasher, microwave, washer, dryer, and your child as well! Plus, you can buy these fantastic label packages, where Lovable Labels has anticipated all your label needs.
I'm truly impressed with the quality of Lovable Labels and they are fun too! These are not only great for school but for camp, daycare, or anywhere your child may have the opportunity to have something go a missing!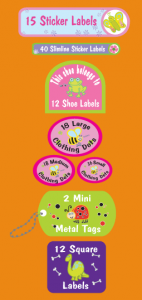 Lovable Labels sent me their new Ultimate Camp Pack which includes:
15 Regular Sticker Labels
40 Slimline Sticker Labels
72 Press n' Stick Clothing DOTS
12 Shoe Labels
2 Mini-Metal Tags
12 Square Labels
The clothing dots do not require any ironing but you will place these on the garment tag or care label. I personally had never thought to label shoes, even though, last year a child went home with my son's shoes on and with a flair!
Don't Lose it, Label it with Lovable Labels!
This giveaway was sponsored by Lovable Labels. Post was written 100% by me and was not edited by the sponsor. Read more on my Disclosure Policy.
Want to win more? Enter to win the rest of my current giveaways!