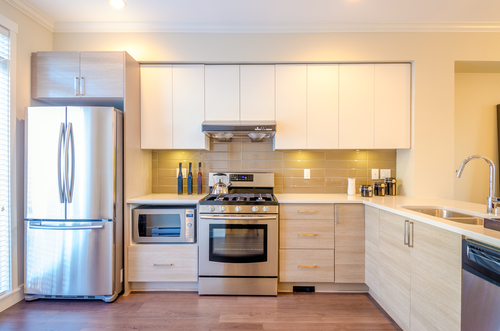 Clever moms have been covering Pinterest in great ways to save money around the house. From finding coupons to checking price differences on generic brands, the little things add up when you run a tight ship. As a smart homemaker, you know when it's better to invest in quality items. For big purchases, you know how to save a headache and money down the line. But if you need a refresher, here's your guide on saving and splurging when purchasing items for around the house.
H2Oh My!
Let's start with the water in your home. If you have an older home and your water tastes metallic, there's a good chance you need new pipes. Don't panic just yet. Real estate experts agree that recent advances with plastic tubing in the plumbing industry mean far fewer holes in your walls and a much smaller bill. Replacing old-school metal pipes with flexible plastic tubing increases the resale value of your home and takes care of your water problem.
Save money to pay for the new plumbing by installing low-flow faucets. These reduce waste and cut your water bill by 25 to 60 percent, according to Energy.gov. While you're at it, if you're still buying bottled water, it's time to stop. If your family drinks a case of bottled water every week, you would save $177 every year by switching to a Brita filter.
Appliance Advice
Save money on big purchases, like appliances, by doing a little legwork. First, you need to know exactly what you want. Do your research online and read reviews carefully. Know what your non-negotiable features are and what online pricing is before you hit the showroom floor. Bring your notes and be prepared to take some more.
Other ways to save include getting creative with gift cards and rebates, applying for movers discounts and using store rewards programs. Don't forget that negotiation is possible, and free delivery is often thrown in to sweeten the deal for those who ask for it. The best time to buy is on long weekends or after holidays, so mark your calendar and plan ahead.
The Mattress of Your Dreams
One investment you're sure to get a lot out of is your mattress. Consumer Reports estimates that you'll spend 30,000 hours in your bed before it becomes uncomfortable enough to replace. If you're not sure if you need a new mattress, ask yourself these questions:
Do I sleep better away from home?
Do I wake up tired and achy?
Does my back hurt in the morning?
If you answer "yes" to these questions, it's time for a new mattress. If you're over 50, you're recommended to buy one every five to seven years because your body tolerates less pressure as you age. The Better Sleep Council recommends that you do comparison shopping instead of bargain shopping for your mattress because the quality of your sleep determines the quality of the rest of your life. Online and in-store price matching and reading reviews keep you from getting fleeced. Don't be shy about testing out your mattress in person. Lie on it for a 15-minute, full-body rest because that's how long it takes to get an honest feel for what eight hours a night will feel like.
Did you enjoy this post? Find more money saving tips here.