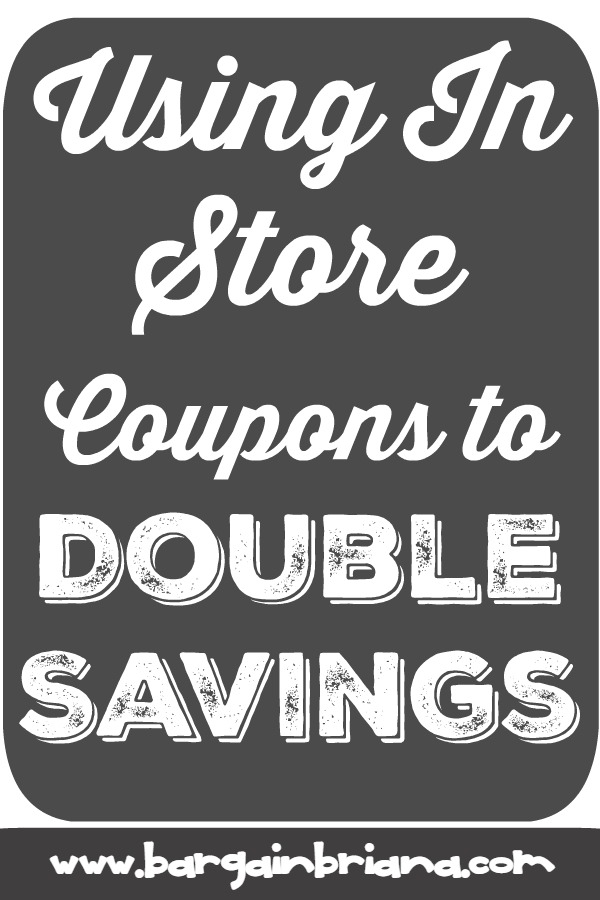 We have already talked about stacking in store coupons with manufacturers coupons, but now we are going to talk about Using Store Coupons To Double Savings in general.  One great thing about many chain stores is that they are often now offering printable in store coupons, mail out coupons or even coupon kiosks in store for your benefit.  On top of that, you have coupons that are on the shelves in store to use.
Using In Store Coupons To Double Savings
Sign up for all store rewards programs available. If your store has a rewards program or reward card, make sure you sign up for all programs available.  Doing this will give the store a chance to track your purchases and give you coupons that will match what you are normally spending your money on.  Not only will you get special deals when you use your rewards card, you'll be able to load digital coupons for them to take off at checkout, and often get coupons in the mail as a result of your purchases. This is one rare instance you'll find coupons for generic brands.
Call the store 800 number and ask for coupons. When in doubt, call the store customer service line and ask if you can be added to their coupon mailing list.  Many grocery store chains will mail out coupons on a monthly or quarterly basis.
Stack coupons when applicable. As we have shared before, you can often stack coupons designated as "store coupons" with a traditional manufacturer coupon for twice the savings on the same product.
Use coupons on products or on shelves when available.  There are great coupons on the shelf in front of products, as well as occasional on packages themselves that can instantly save you money.  These coupons are intended to be used on the product in that store, and not to be taken and used at a different store or sold to someone else.  Just because there is a tear pad of 100 coupons doesn't mean that you should take all 100 coupons.  Use a reasonable amount in store at time of purchase (5-10 maximum) and leave the rest for other customers to use.  Never peel a coupon off a package to use elsewhere.  Only use on the package it is on.  This is just a simple rule in the common coupon etiquette that is handed down from generation to generation.
In store coupons do double savings on many occasions.  Not only are these free to you to use, they are often the easiest to acquire.
Looking for coupon matchups? Find all the stores we cover here at the Store Coupon Matchups Page. Need coupons? Print out coupons for all your favorite products here.
Did you enjoy this post? Find more money saving tips here.