Today's Guest post is by Courtney at HomeMakerHero. I've had this blog on my blogroll since I discovered it. Her blog is a wealth of information. She has Thoughtful Tuesday, Wellness Wednesday, To Do Thursday (Lots of crafts, DIY, organization, etc.), Family Friday, and Sanctuary Saturday…plus money saving deals all week long. (She is my HERO!!!). She was kind enough to do a guest post for me this week while I'm away from my computer. Environmental friendly and inexpensive is this possible? Courtney tells us how….

One of the best marketing ideas to date was to take something people were doing for years, mass produce it, put a fancy label on it, and sell it. This started in the 1950s with automatic dishwasher powders, liquid laundry, hand dishwashing, and all purpose cleaning products, fabric softeners, and detergent with oxygen bleach. By the 1960s pre-wash soil and stain removers as well as laundry powders with enzymes and enzyme presoaks were hitting the grocery shelves. In the 1970s, liquid hand soaps, fabric softeners (sheets and wash-cycle added), and multifunctional products (for example, detergent with fabric softener) were available. The 1980s gave us detergents for cooler water washing, automatic dishwasher liquids, and concentrated laundry products. By the 1990s we had all forgotten our old ways of homemade cleaners and were out buying ultra (super concentrated) powder and liquid detergents, ultra fabric softeners, automatic dishwasher gels, and laundry and cleaning product refills. Currently chemists are working on more "environmentally friendly" products and even more concentrated liquid soaps. Believe it or not, there was life before store bought household cleaners.
Store bought cleaners are fantastic for those who feel the toxic chemicals used in these products will get the job done. Maybe you even have a coupon for it and feel it's a better deal when you can get it for free. But is it really better for your home? My point is that there is a more natural way of cleaning your house. It's been around for years but has been lost in the shuffle of store bought cleaners. It cost less. It is more environmentally friendly. It won't make the air in your house smell toxic. It cuts down on waste. And it's easy to get the results you need if you understand the ingredients in cleaners and what they do.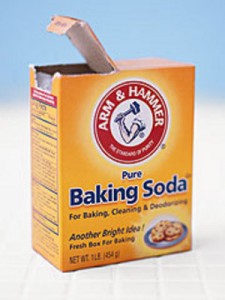 Borax, vinegar, baking soda, lemon juice, and Murphy's Oil are just a few of the basic ingredients you can use to get the job done. Borax is a naturally occurring mineral composed of sodium, boron, oxygen and water that is great for cleaning. You can use it as a laundry booster or pre-soak, and you can even scrub your tub and toilet with it. Stranger yet, you can even use it to preserve flowers. Vinegar is a staple ingredient in our home. It sure smells bad but vinegar can be used on many solid surfaces. Wipe down counters with a vinegar solution, get rid of hard water build up, clean drains, wipe floors – vinegar even dissuades ants from your counter tops. Keep lots of it around because you can also cook with it! Baking soda cleans, deodorizes refrigerators and carpets, and provides an abrasive for cooked-on pans. It can also be made into a paste to get rid of counter top stains. Lemon juice can be used in place of vinegar and can also add a fresh clean scent to your cleaning products while also adding a bit of natural anti-bacterial strength. Murphy's Oil Soap is a natural biodegradable cleaning product that's free of bleach, ammonia, or other harsh detergents. It's great on wood floors, furniture, no-wax floors, tile, paint and laminate.
Want to get started? Try this homemade all-purpose cleaner: 2 tbsp Borax, ¼ cup lemon juice, and 2 cups of water. Dissolve the Borax in the lemon juice and water. Put into a spray bottle and use like you would a conventional all-purpose spray. It's all that easy.
You can find all kinds of homemade cleaner recipes on the internet (I've been doing a series every Thursday on my own website, Homemaker Hero – search for "homemade cleaner") and even at the bookstore – anything from laundry, air freshener, household cleaner and even homemade engine cleaner! Important: Don't mix homemade cleaning products with conventional cleaners. Keep these and all cleaning products away from children. Keep large batches of cleaning products in tightly sealed containers or reusable spray bottles.
If you like this, be sure to subscribe to her feed or visit HomeMakerHero and let her know!