Today's Guest post is by Lori at Moms by Heart. She has written up some great ideas on Once a Month Cooking. You can make this as big as you want it – you can spend a whole day cooking and freezing. Or you can make a few extra meals here and there and freeze them! I've done it both ways. I've found that I do best when I'm cooking a meal to double it and freeze half of it. I will also cook 2 lbs of ground beef and freeze 1 lb of it for easy dinners! I'm really wanting to try out the burritos Lori makes!
What is great about having food already cooked and ready in your freezer is it is cooked and ready! Great for those days when you don't feel like cooking but still want something nutritious for your family. This will also save you money by making your own items instead of using prepackaged foods or eating out. Lori has a great blog so please visit her site and browse around! She also has some great ideas for Planning Ahead for Christmas!

As mom to five kids ages 1-14, "quick and easy" are my words to live by. Over the years I've found some awesome shortcuts that don't require sacrificing taste. They allow me to keep my kids lunches fully stocked with homemade goodies, and even fill up my teenage boy when he's having a snack attack!
Make and Freeze Cookie Dough
Once a month, I make up a triple batch of 3-4 different cookie recipes and freeze the dough into logs. The one shown below is the Nestle Toll House Chocolate Chip Cookie recipe.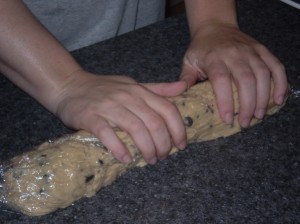 First, scoop cookie dough onto plastic wrap in one row, about 12" long.
Next, wrap the plastic around the dough and shape it into a log.
Place the log into the freezer just until firm. Store in airtight container or freezer bag. I always double wrap it to prevent freezer burn. Label with date and cookie type.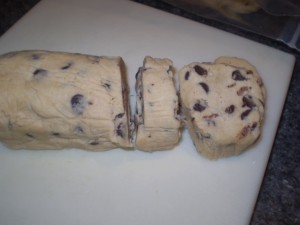 When you want some fresh-baked cookies, just preheat the oven and as it's warming up, slice the dough and place it on an ungreased baking sheet. For best results, do not use a dark pan. (Bri's Note: I personally love my Pampered Chef Baking Stone to bake cookies!) Follow the recipe for baking time and temperature as usual.
Other cookie dough that freezes well: peanut butter, sugar cookies and shortbreads. Cookies that DON'T freeze well: oatmeal (tends to turn out dry), cake-like cookies and cookies with a very liquid batter.
Convenience Foods
These are things you might ordinarily buy in the frozen foods section for snacking or quick meals. When you make them yourself once a month you'll save money, but you'll also get a healthier, better tasting result!Here are a couple of my monthly must-have's: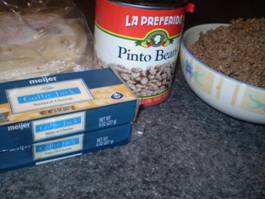 Beef burritos. (This recipe makes 20 so adjust to your family's need accordingly.) An easy way to add lots of flavor is to make your own QUICK refried beans.
Be sure to make plenty because these will go fast!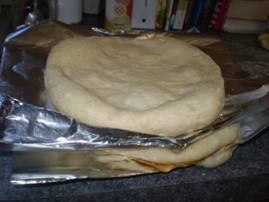 Par-baked pizza crust and homemade pizza sauce. There is nothing like this pizza crust recipe. It's not my own, so I can brag. This one is out-of-this-world-good and very little effort.
Easy Dinners
A few easy dinners. I don't do a lot of make-and freeze dinners, mainly because I think taste is sacrificed sometimes. These are a few that freeze very well, and give me easy options for those crazy days!
Use your favorite meatball recipe and make them in bulk! Just bake, let cool, and freeze for an "out-of-the-freezer-into-the-crockpot" dinner. Just add spaghetti sauce and noodles!
Form and freeze uncooked hamburger patties. When you're ready to eat, just drop them into the skillet and cook, covere
Italian Stuffed Shells. For this one, I reduce the spinach to one box (personal preference) and prepare ONLY the meat filling for freezing.
Chicken Fajita meat. I use this seasoning recipe and cook ONLY the chicken ahead. Add the onions and green peppers during final preparation.
Chicken Wild Rice Soup. Any "broth" soups without potatoes freeze very well too!
Other Resources
If you like this, be sure to subscribe to Lori's feed/email newsletter or visit Moms by Heart and let her know!