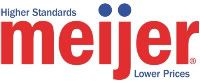 Meijer 101
To find most recent Meijer deals click HERE.
This is one of my favorite places to find great deals! I usually am only able to make a Meijer trip every couple of weeks.
Getting Started at Meijer
First you need to figure out when the sale runs for your favorite Meijer Store. From my local readers, Kokomo Meijer runs their sales from Sunday to Saturday. The Indianapolis area & surrounding area Meijer's (Noblesville, Carmel, etc.) run their sales from Wednesday to Tuesday. This helps me plan a little better because I can hit Indy area if I miss the Kokomo sale since they overlap. Though, you will notice there is a slightly higher prices in the Indy area. I've noticed this particularly on the cola deals. If the price is $5.00/case in Kokomo, it will probably be $5.50 in Indy.
You can view the weekly ad on www.meijer.com
You will also want to sign up for the Meijer Mealbox. This a valuable source of Meijer coupons. At Meijer you can stack Meijer coupons and Manufacturer's coupons. If you are unsure which you have, look at the top, they will clearly state Meijer Coupon or Manufacturer's Coupon. You can use (1) Manufacturer's coupon and (1) Meijer coupon PER item purchased! The Mealbox can also help you plan your shopping and has recipes! Check it out!!!
Coupon Policy
Meijer accepts all coupons. They have a right to limit quantities and refuse any coupon that looks suspicious. I've never had a problem using coupons at Meijer. Internet coupons are accepted.
Meijer doubles coupons up to .50. So a coupon with a face value of .35 will actually be worth .70 at Meijer. Kokomo Meijer's does not have a limit on how many coupons they will double. However, Indianapolis area Meijer's have a limit of (2) of the same coupons that they will double. So if you have (3) .50 cereal coupons, they will only double (2) of those. Keep that in mind when planning your trip. You may to have separate your shopping into two trips or two separate orders to get your maximum savings!
Meijer also has manufacturer's coupons that will "Spit" out at the register. These are sometimes called Catalinas. Sometimes, they will have deals where if you buy a certain # of a product, you will get $5 off your next order! Don't miss out on these coupons! (Sometimes I go right back into the store to use them so I don't forget to use them or don't have to time to get back to Meijer before the expiration date!)
Sale Limits
You will notice in the ad if there is a limit on a particular item. Usually it will be limit 2, etc. If it is something you want to stock up, you can make multiple trips in the same week. Another way, is to shop with your spouse/kids and have them place an order.
Buy One Get One Free Sales
At Meijer, if it is a Buy One Get One Free Sale, you can use TWO coupons if you have them.
Manufacturer's Coupon & Store Coupons
You can use one manufacturer's coupon and one store coupon per item purchased. This is a trick most people get confused about. Since the manufacturer is reimbursing the manufacturer and the store is reimbursing the other coupon, you are allowed to use these two types of coupons for one item. Check the top of your coupon if you are unsure if it is a store coupon or a manufacturer's coupon.
Rain Checks
Meijer does offer Rain Checks. You can ask for them at the register or the service desk. It helps if you have the ad with you.
Misc. Hints
If it is a 10 for $10 sale, you do not have buy $10 to get the item for $1. (They try to trick you by advertising "Mix & Match." You can buy 10, you can buy 1, or you can buy 11 and still get the item for $1.00. It is the same with 3 for $5, etc. The only time you do have to buy the quantity state is when the ad specifically states it. Meijer usually has 10/$10 sales with the 11th item free!
Meijer Credit Card
You will earn $10 certificates after you spend X amount of dollars, 10% off your entire first purchase, 1% back to the school of your choice, Upromise Savings, 10 cents off every gallon of gas (through 9-1-08), and other exclusive savings throughout the year. (One week, it was 10% off general merchandise, 5% off groceries on a Monday – saved me an extra $16.00). But if you do sign up, make sure you pay it off every month and pay it on time…otherwise, you will lose anything you have saved by using the card! You can apply online HERE.